Anthony Horowitz 16 Books Collection Alex Rider & Power of Five Series Set Pack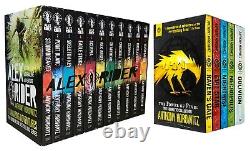 Alex Rider & The Power of Five Collection 16 Books Collection Set. Russian Roulette, Scorpia Rising, Crocodile Tears, Snakehead, Ark Angel, Scorpia, Eagle Strike, Skeleton Key, Point Blanc, Storm breaker, Raven's Gate, Evil Star, Night Rise, Necropolis, Oblivion. Alex Rider Collection 10 Books.
Russian Roulette In the prequel to the number one bestselling Alex Rider series by Anthony Horowitz, contract killer Yassen Gregorovich is given orders to kill Alex. But Yassen knows a secret from the past that connects him to the fourteen-year-old spy.
What is it that makes one of them choose to do evil, and what does it take to turn him into a killer? Scorpia Rising This gripping final mission brings together Alex Rider's old enemies to frame the teenage superspy in an unstoppable plot of revenge, from which he can never return. Pursued from Europe to North Africa and Cairo's city of the dead this is the twistiest and most deadly plot of any Alex Rider mission yet, and will reveal Smithers' ultimate gadget and see the shock death of a major character. Crocodile Tears Targeted by a hitman and under threat of his past being exposed by the media, Alex reluctantly turns to MI6. But their help doesn't come cheap: they need Alex to spy on the activities at a GM crop plant. Kidnapped and whisked off to Africa, Alex learns the full horror of McCain's plot: to create an epic disaster that will kill millions. Forced to ask MI6 for protection, Alex finds himself being manipulated in a deadly game that could lead to the destruction of an entire East African country.
Snakehead Splashing down off the coast of Australia, Alex is soon working undercover â this time for ASIS, the Australian Secret Service â on a mission to infiltrate the criminal underworld of South-East Asia: the ruthless world of the Snakehead. Faced with an old enemy and troubled by his own past, Alex is caught between two secret services, with no one to trust and this time he needs all his wits to survive...
Ark Angel From Cornwall to Cuba, Venice to France, Alex Rider has travelled far and wide as a spy for MI6, facing danger and death at every turn. But in his last mission, fighting the criminal organization, Scorpia, Alex appeared to have finally met his match.
In the thrilling sequel to "Scorpia", find out the answer to the question on everyone's lips - Will Alex Rider live to fight another day? Scorpia The fifth revelation-packed mission in the Alex Rider series! Still reeling from the terrible discovery he has made about his father, teenage MI6 superspy, Alex Rider, is determined to find out more. Travelling to Italy, he manages to infiltrate the glamorous world of Claudia Rothman, beautiful society hostess and member of the international criminal organization, Scorpia.
She reveals that Alex's father was murdered by MI6, in an operation masterminded by Head of Special Operations, Mrs Jones. Shocked and angry, Alex faces a choice: to continue to work with the British security services, or to become an agent for Scorpia - and get revenge. Eagle Strike Reluctant MI6 agent Alex Rider is relaxing in the south of France until a sudden, ruthless attack on his hosts plunges him back into a world of violence and mystery - and this time, MI6 don't want to know. Alex is determined to track down his friends' attackers, even if he must do it alone. But it's a path that leads to a long-buried secret - and a discovery more terrible than anything he could have imagined.
Skeleton Key Teenage superspy Alex Rider is enlisted by the national security services again - this time for a routine reconnaissance mission at the Wimbledon Tennis Championships. But before long, Alex finds himself caught up in a terrifying chain of events that leads from the Chinese Triad gangs in London to an undercover assignment in Cuba. Alex begins to make chilling links between suspicious deaths, an illegal nuclear weapons deal and the plans of his host, Russian General Sarov, for the future of the world... Point Blanc Investigations into the "accidental" deaths of two of the world's most powerful men have revealed just one link: both had a son attending Point Blanc Academy - an exclusive school for rebellious rich kids, run by the sinister Dr Grief and set high on an isolated mountain peak in the French Alps.
Armed only with a false ID and a new collection of brilliantly disguised gadgets, Alex must infiltrate the academy as a pupil and establish the truth about what is really happening there. Storm breaker When his guardian dies in suspicious circumstances, fourteen-year-old Alex Rider finds his world turned upside down. Forcibly recruited into MI6, Alex has to take part in gruelling SAS training exercises. Then, armed with his own special set of secret gadgets, he's off on his first mission to Cornwall, where Middle-Eastern multi-billionaire Herod Sayle is producing his state-of-the-art Stormbreaker computers.
Sayle has offered to give one free to every school in the country - but there's more to the gift than meets the eye. Oblivion Having escaped from Hong Kong, the Five Gatekeepers - Matt, Pedro, Scott, Jamie and Scarlett - are scattered in a hostile and dangerous world. As they struggle to re-group and plan their next move, the malevolent King of the Old Ones gathers his forces in Oblivion: a desolate landscape where the last survivors of humanity must fight the ultimate battle.
Matt has always known he has unusual powers. Raised in foster care, he is sent to Yorkshire on a rehabilitation programme, only to find himself in the midst of sinister goings-on. Matt investigates and uncovers a terrible secret - eight guardians are protecting the world from the evil ones, beings banished long ago by five children. But devil worshippers want to let the evil ones back in. As the story reaches its climax, it looks like Matt has succeeded in stopping them...
Major marketing campaign with 6-sheet advertising to launch this gripping new series. Guaranteed publicity coverage - including radio and TV interviews.
Evil Star After his experiences at Raven's Gate, fourteen-year-old Matt Freeman thinks his days of battling evil are over. But soon he is pulled into another horrifying adventure when he discovers a second gate exists.
Matt and his friend Richard travel to Peru and, assisted by a secret organization known as the Nexus, follow a series of clues to the gate's whereabouts. But there is a traitor in the Nexus...
Matt manages to escape with the help of Pablo, a local boy. The pair travel to the Nazca desert and Matt realizes the horrifying truth - the Nazca lines are the second gate and it is about to open. But this time, will he have the strength to prevent it? Night Rise Nevada, USA - fourteen-year-old twins Jamie and Scott Tyler are performing a mind-reading act in a dingy theatre. But when a sinister multinational corporation, Nightrise, kidnaps Scott, Jamie is left alone - and wanted for murder.
He becomes embroiled in a corrupt presidential campaign and breaks into the American prison system before being propelled ten thousand years into the past, where he encounters the other Gatekeepers and witnesses the creation of Raven's Gate - and the first fateful battle against the Old Ones. Necropolis Evil has been unleashed on the world and only five children  with special powers  can save it. Matt and the other three desperately need to find Scar, the final gatekeeper, who has been trapped in Hong Kong, where puddles of water turn into puddles of blood, where ghosts, demons and hideous creatures stalk the streets. Matt has no choice but to follow her. Now, both imprisoned, their only hope of survival is to reach a secret door in the Man Ho temple. But even if Scar can find her psychic power, it may already be too late. We are dedicated to ensuring the highest possible quality service to our customers. You can send us a message by using the "Questions and answers" section towards the bottom of the page. The item "Anthony Horowitz 16 Books Collection Alex Rider & Power of Five Series Set Pack" is in sale since Monday, April 16, 2012. This item is in the category "Books, Comics & Magazines\Children's & Young Adults\Fiction".
The seller is "books4peopleuk" and is located in Leicester. This item can be shipped to United Kingdom.
Modified Item: No
Topic: Boys' Interest
Format: Paperback
Series: Alex Rider, Power of Five
Type: Novel
Gender: Boy's/Girl's Interest
Popular Authors/ Series: Alex Rider & The Power of Five
Subject: Action & Adventure
Weight: 4.00
Author: Anthony Horowitz
Language: English
Publisher: Walker Books
Genre: Action & Adventure
Age Level: Young Adults
Special Attributes: Collection/Box Set