Blue Planet Project Book Set All 32 of the Alien, UFO and Conspiracy Books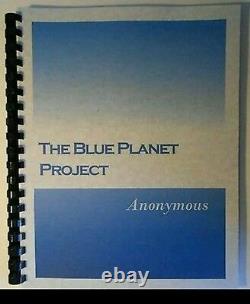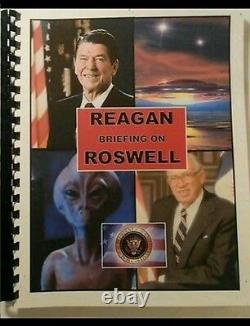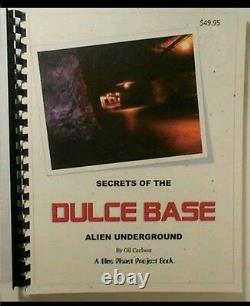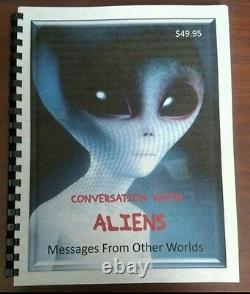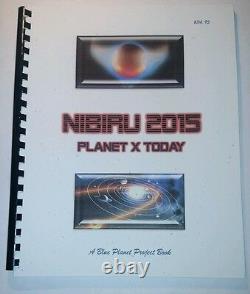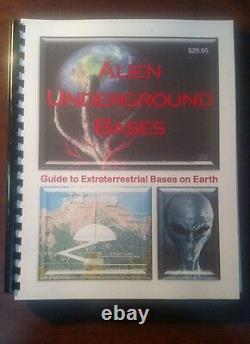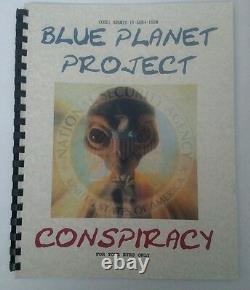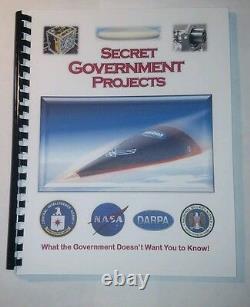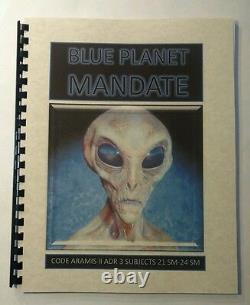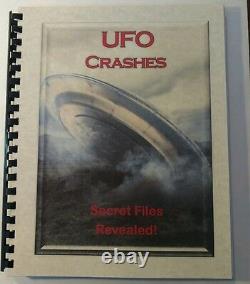 Blue Planet Project Book Set - All 32 of the Alien, UFO and Conspiracy Books! There wasn't enough room to put the pics of all of them but all 28 books are included! Take advantage of this offer and get an unheard of bargain! The Blue Planet Project Book is the mysterious manuscript authored by a U.
It describes, in amazing detail, the inter relationship between the U. Government and several extraterrestrials societies with whom we have working agreements. I've been told this information was once classified as "Above Top Secret" and that this information was never intended to be released to the public! The Blue Planet Project Book contains all the amazing notes and drawings supposedly made by the scientist. The scientist visited various UFO crash sites, and the notes and drawings were allegedly made from those visits.
It is believed that this anonymous scientist was contracted by the government over several years to visit all crash sites, interrogate captured Alien Life Forms and analyze all data gathered from that endeavor. Transcript of classified tape recording made at Camp David, Maryland during a presidential briefing regarding the subject of UNIDENTIFIED FLYING OBJECTS and EXTRATERRESTRIAL VISITATION of EARTH. President RONALD REAGAN was present.
Now with the President Regan Briefing on Roswell, I believe there is no way that the government can deny what actually happened at Roswell! SECRETS OF THE DULCE BASE ALIEN UNDERGROUND.
You will soon discover that "Secrets of the Dulce Base Alien Underground" is not only the most complete book on Dulce Base, but is stuffed full of the latest secrets! And the aliens: This book will bring home to you what is really happening with aliens on the surface of our planet and especially under the surface! You have probably never realized how extensive this situation really is so you will be amazed that so much information exists today. From photos and drawings that have been smuggled out of Dulce Base, to eyewitness reports and even testimony from Remote Viewers! The newest, most accurate book on discovering what's going on with extraterrestrials on our planet as well as their home planets.
Remote viewing has proven to be an extremely accurate and revealing "spying" medium. And now we are revealing the information that has been obtained by a number of different Remote Viewers who have viewed aliens. These results have been amazing!
Getting any kind of information on aliens by using any other methods over the years has been very limited, confusing and possibly inaccurate. That's why remote viewing aliens is such a very exciting method for finally getting questions answered! BLUE PLANET PROJECT LOST CHAPTERS. Now it has recently been revealed that not all of the Blue Planet Project info was revealed at that time. What has surfaced now is almost enough material to be called the second half of The Blue Planet Project Book!
But I like to call it: "Blue Planet Project Book - The Lost Chapters" and I'm sure that you too will find it very fascinating. Alien Servants for the Greys. The Governments philosophy on Aliens.
National Security Agency (NSA) Security Codes. Conversation With Aliens - Blue Planet Project Book #6. What do the Aliens want with us? This giant 180 page book reveals so many secrets of the alien... Find out what they want you to know and even what they don't want you to find out!
Once you read all these messages from the aliens, you will never be the same again! All this new knowledge just may make your head swell.
Never again will you look at things in the same way. You will understand what is really happening in your life, this World and even the solar systems! Get a better idea of why the aliens are here and how long they've been here and what their plans for humans are! Ever wonder who your ancestors really are? Who created us and why?
What our importance and standing in this Universe is? Ready for the truth about who is behind the abductions and why?
What are the secrets of our soul? And what's ahead for us?
The author claims that there are certain organizations that do not want this information released while there are some groups of aliens who are anxious to have this material available to the people. In order to not draw too much attention to this material at this time, the author has decided to print these in small quantities and to avoid offering these through book stores. NIBIRU 2015-PLANET X: Anunnaki Aliens, UfOs, A Blue Planet Project Book.
Just like you, I too have been extremely interested in the concept of a Planet X, but there just hasn't been enough current information in print that accurately applies to what is happening today. That is what necessitated this new book, Nibiru 2015, stuffed full of the latest information, charts, calculations, comparisons and suggestions. Gil Carlson - Author of "Nibiru 2015-Planet X" Book #7 in th3 Blue Planet Project Series. 116 large 8.5 x 11 size pages, comb-bound.
A must for your alien and UFO library! Dulce, Los Alamos, Dugway and more! Blue Planet Project Book #8. The Complete Guide to Extraterrestrial Bases on Earth! Hundreds of strange and mysterious locations that have revealed amazing, bizarre technology.
Some of these locations have been sealed by the military. You are going to get a giant spiral-bound (this makes it easier to lay flat and study all the information crammed inside it) manuscript with 172 big 8.5 x 11 size pages and it is stuffed full of photos!
While there are numerous Deep Underground Military Bases (DUMBS), and even several joint military/alien bases such as Dulce Base (See our previous book Secrets of the Dulce Base), this new book: Alien Underground Bases, covers the secret alien locations which government and military leaders around the world pretend don't exist. While some of these locations may have been home to aliens thousands of years ago and are most likely abandon today has anyone gone down there to double-check? , many others could very well still be active! What could be going on there?
How about strange and mysterious scientific and military preparations? Genetic experiments involving humans, animals and plant life?
Caution: Don't go off alone trying to locate some of these alien hotspots.. There are some aliens that claim we taste like chicken!
While many may scoff at the idea of secret alien bases, consider that the U. Government takes the release of this information very seriously. Would they be so paranoid about this if there wasn't anything to it? Just remember the sad case of whistleblower Phil Schneider, a top expert on the construction of underground military bases. The government claimed his death in 1996 was a suicide, but others claim it was more like a military execution and revealed that there appeared to be signs of a brutal beating. Schneider claimed to have been the subject of several assignation attempts. One occurred in September of 1995, sixteen days before giving a lecture at the Preparedness Expo. He was shot in the shoulder by an FBI agent that Schneider claimed was trying to kill him. He killed the FBI agent in self-defense. I'm not sure if a lot of folks realize it or not, but when Schneider was the recipient of a suicide, he was working on a book that was going to detail the precise latitude/longitude coordinates of all DUMBS (Deep Underground Military Bases) that he was aware of.
He was killed in January 1996 and the book was never released. All information dealing with aliens is kept well hidden from the public and the U.
Military has known about the alien presence for more than 85 years, going back as early as 1909! Blue Planet Project Conspiracy Book - Alien, UFO Secrets Revealed! That mysterious "anonymous" author of the Blue Planet Project has been found and he had so much information for us that we had to put out this new book with all the amazing revelations! You may have thought the Blue Planet Project Book was revealing, but wait until you read this! Find out why no one has heard from him in years, find out where he is and see the photo of where he has been living!
Read the special message he has written for you! Read the secrets of how and why the Blue Planet Project came about and what the codes mean. Find out why the government hated the Blue Planet Project and get an idea of why they will hate this Blue Planet Project Conspiracy Book even more! Are you ready to hear about his methods for hacking into government files? And what he discovered in these files? And even what he reveals about where his best information came from? If you have read the Blue Planet Project, you absolutely have to get this book! Should I be nervous about publishing this book? Should you be nervous about reading it? There is so much in this book that I just can't reveal it all here, just take my word for it, this is amazing, you have to have it! Get your copy today before they knock on my door and water-board me! Spiral bound 84 8.5x11 pages. Secret Government Projects Book -Alien Cooperation, Alien Craft, Mind Control, Super-Secret Weapons.
Blue Planet Project Book #10. CIA, NSA, DARPA, NASA secrets! Discover what the government is secretly doing to us. Most powerful, revealing book ever written!
This amazing book, just released, was written to answer your questions and mine about what the government is secretly doing to us. I realize that the government doesn't like their secrets being revealed, but somebody had to do this, we needed a book that included all the most recent secret projects. Wait till you see some of the photos, you will be shocked that this stuff really exists! You know those strange craft that have been spotted in our skies? The ones that we are unsure of what they are and whose they are?
Well I'm going to tell you all about them. And give you info and photos of ones you've never seen and have no idea of what they are. Now you've heard about the NSA and their spying on us that has been supposedly limited by Congress, I'll now tell you the truth about what they are up to and what they are doing to you now and how they really have control over your computer! Not only spying on everything that you do, but damaging your computer if you use software that they don't like!
They have even claimed that they can easily kill you remotely! You'll see how some of these projects came from science fiction and even from Back-engineered alien craft or built directly with help from the aliens. And what about these mind-control projects that the CIA is working on: So far beyond what they wanted to do to us in the past.
Now they can do all this but from a distance, and we won't even know what is going on. Instead of drugs to get us to reveal our secrets, they now want to download our memories and examine them on a computer! They might even be able to remove our memories completely or replace them with someone else's memories or false ones! You are going to get a giant spiral-bound (this makes it easier to lay flat and study all the information crammed inside it) manuscript with 154 big 8.5 x 11 size pages! Blue Planet Mandate - Answers to what aliens and UFO's are doing on Earth!
Blue Planet Project author Jefferson Souza has blown the lid off the Alien Conspiracy! No wonder the government wants to keep him locked up! Was this, the first new book by Jefferson Souza since the Blue Planet Project, smuggled out of a Federal Prison? Finally, we have the real answers to how and why they contact, abduct and transport us humans! I'm sure you have often wondered who they really are, what are they, where are they from, how long have they been here, are they benevolent or are they here to destroy us?
What methods do they use to get to our planet? How many different groups of aliens are there and what are their different characteristics?
You are soon going to get your answers to these questions and so many more! Jefferson Souza definitely knows too much and could do tremendous damage to the plans of certain groups that hold power over us humans!
I have been told by someone that knows Jefferson well that he may not even know how important some of his knowledge really is and those in power need to keep the lid on it. As you well know, it all started with the Blue Planet Project Book, created from Jefferson Souza's research notes that date back some 20 years or more.
He had been deeply involved in alien research, had numerous connections with some of the top names in alien research, government insiders, and leaders of foreign nations who had their own agendas for taking advantage of his knowledge and abilities to gain it. Obviously Jefferson had access to high security information, whether legally or illegally, we may never know. Originally, when the Blue Planet Project was first published, there were claims that he was a U. Government scientist involved in retrieving crashed UFOs and the alien occupants. If you haven't read any of the Blue Planet Project books, you will be amazed and shocked that these truths have finally come out!
Some of Jefferson Souza's readers have said they felt that it was almost illegal for them to even be reading this hidden knowledge! You are going to get a giant spiral-bound (this makes it easier to lay flat and study all the information crammed inside it) fully color illustrated manuscript with 96 big 8.5" x 11" size pages! UFO CRASHES - This book reveals secrets of Crashes, Retrievals, and Cover-ups! UFO crashes and their retrieval by highly specialized teams often includes recovery of alien bodies and on some occasion those that are still alive! We may be able to consider this book to be DISCLOSURE!
Although it is not direct disclosure from a government official, but it indirect disclosure based on the actions of the government. Anything revealed by the government would be mostly lies anyway.
The government claims that UFOs and aliens do not exist and go out of their way to make fun of anyone that claims they are real or claims to have seen one. But of you have taken a photo of one, after they brand you as a kook, there's a good chance that the Men in Black will show up at your door demanding your evidence.
But the government's own actions prove unequivocally that UFOs and aliens are real, let me show you. If they don't exist why does the government work so hard to prove that they don't exist? According to documents: They consider that Any encounter with entities known to be of extraterrestrial origin is to be considered to be a matter of national security and therefore classified TOP SECRET. Government documents claim that Under no circumstances is the general public or the public press to learn of the existence of these entities. The official government policy is that such creatures do not exist, and that no agency of the federal government is now engaged in any study of extraterrestrials or their artifacts.
Any deviation from this stated policy is absolutely forbidden. Penalties for disclosing classified information concerning extraterrestrials are quite severe. Anyone involved in a "UFO close encounter" would become eligible for indefinite quarantine under armed guard. And there are laws governing this that have been established by NASA. This draconian penalty is what prevents most former military servicemen from coming forward to disclose information.
But hey, I thought the government claimed aliens and UFOs don't exist? The evidence concerning UFO crashes that are extraterrestrial in origin, and their covert retrieval by highly specialized teams involving joint military and government personnel, is extensive and persuasive.
Understanding the highly classified procedures established to manage the retrieval of crashed UFOs have been revealed through special operations manuals that provide an important analytical framework for understanding, and answering questions about, classified procedures used for locating, isolating and recovering crashed UFOs that are extraterrestrial in origin. There are the testimonies of a number of whistle-blowers who claim to have participated in UFO crash retrieval operations or participated in a number of highly classified extraterrestrial related projects. I believe that this is the most complete and revealing UFO book yet, it's like an encyclopedia of UFO crashes, close to 200 of them and covering several thousand years! You are not going to believe your eyes as you read about amazing discoveries, cover-ups and revelations by government insiders.
All the details and descriptions of these UFOs will amaze you! Did you realize that after one retrieval, the crew of the truck carrying the recovered UFO, were found dead on the highway outside of the truck? And did you know that our UFO retrieval teams have been known to go to other countries and snatch up downed UFOs and any wreckage and bodies before the local military can investigate? At one retrieval site, it was revealed that the military was under orders to shoot anyone that got close enough to see the downed UFO!
This is probably the standard operating procedure for these teams. You are going to get a giant spiral-bound (this makes it easier to lay flat and study all the information crammed inside it) manuscript with 172 big 8.5 x 11 size pages! Behold a Pale Horse Revisited - UFOs, Aliens and Illuminati!
Blue Planet Project Book #13. The secrets of William Cooper, His book: "Behold a Pale Horse" and secret government documents are finally revealed and brought up to date! Did the government think these files would stay hidden after the tragic death of William Cooper? It is totally amazing what Bill Cooper discovered about UFO, aliens, government conspiracies. Naval Intelligence Briefing Team member, reveals information that remains hidden from the public eye.
Only Bill Cooper was close enough to this top secret info to be able to discover it. He has revealed secrets about Kennedy assassination, the truth about the war on drugs, the Secret Government as well as UFO revelations! Cooper correctly predicted the lowering of the Iron Curtain, the fall of the Berlin Wall and the invasion of Panama and more based on what he discovered in Top Secret documents that he read while with the Intelligence Briefing Team. Now you can discover the rest of the story: Mr. Cooper claimed that what will soon be upon us will result in the most wonderful experience in the history of man or the most horrible enslavement that you can imagine. Discover what he predicted about what the future will bring and how it will affect your life! 118 large 8.5" x 11" pages, spiral bound, 15 ozs. #14 WIKILEAKS UFO FILES BOOK Government Secrets on UFOs and Aliens revealed!
I've got a whole book full of government UFO files from WikiLeaks and several other secret sources. You'll soon discover why some government officials want Julian Assange dead, and I assume I won't be too popular with the government either, now that I'm actually putting some of their most secret info into so many hands! And all this amazing information is now available to you! Wondering what the government has been hiding behind Top Secret and higher classifications?
This is your opportunity to find out. CIA UFO INFO: The CIA has been gathering info on UFOs - Yes you already knew that, well here's stuff you may not have known! COSMIC TOP SECRET FILES: Here they are! ALIEN TECHNOLOGY: Secrets from Wright-Patterson revealed, and you thought their secrets never got released!
MARS & THE MOON: And you thought all those rumors were nonsense, here's what the government files have revealed! BLACK KNIGHT SATELLITE: It is communicating! UFO & ALIEN DISCLOSURE: Read what top officials in the government and military have secretly been saying about UFOs and aliens recorded in numerous documents that weren't supposed to be released to the public. MAJESTIC 12 FILES: Yes, Majestic 12 was real and it is still going strong, read what the government files say about it! KENNEDY Assassination: You've heard the rumors about how it may have been because he wanted to release the UFO files, well here are the actual documents! ALIEN LANDINGS: Here's the proof! TESLA & ALIENS: Yes, Tesla was communicating with aliens! ALIEN MESSAGES: Yes, the government has received and decoded messages from aliens, here they are! ALIEN ATTEMPTED COMMUNICATION: Believe it or not, aliens may have attempted to speak to Air Traffic Controllers! ALIEN SYMBOLS: You've heard about these being found in crashed alien craft, now see what they actually look like!
UFO INTERCEPTS: Now straight from NORAD, more info on actual intercepts of alien craft! FASTWALKER UFOS: And the government is tracking them! FBI & UFOS: Info revealed by the FBI files! MISSINFORMATION: Government attempts to mislead the public!
RUSSIAN UFO SECRETS: And you thought they never released secrets! HUMAN ALIEN MUTILATION: All we hear about is cow mutilation by aliens, well they just may have done the same experimentations on humans, shocking! And so much more you need to find out about! You won't be disappointed, I guarantee it! Blue Planet Project Book #14 - 100 large 8.5" x 11" size pages!
"ALIEN SECRETS BOOK" Blue Planet Project Book #15. Top scientists, military and government experts reveal their secrets on ALIENS and UFOs! Is this the long-awaited-for DISCLOSURE? Experts like Tesla and Einstein, pretty logical folks, right?
You wouldn't expect them to have been investigating aliens and UFO's during their lifetimes, but they turned up some shocking stuff on aliens. We've heard about Tesla's amazing experiments with electricity and Einstein's Theory of Relativity and so much more, but wait till you read what has been hidden from us. Someone or something has done a good job of hiding all this information from us, very strange indeed.
As you have probably realized by now, I have ways of getting and revealing information that was meant to be hidden - lost or forgotten secrets and I don't care who gets upset with me! I guarantee you will find all this as amazing, intriguing and fascinating as I did. This just released book is crammed full of secrets, alien secrets from some of the world's top experts.
But these secrets have been hidden from us, that is until now! Often, a famous scientist is reluctant to talk about discoveries involving aliens and UFOs outside of a close circle of similar-minded coworkers because of the damage it could do to their careers. But, in most cases, these secrets were classified as top-secret preventing them from even discussing them with their families in some cases.
Yes, the same government that claims UFOs don't exist, and everything we see up there is something else or just our imagination, is quick to classify everything about aliens and UFOs as top-secret information and will come down hard on anyone leaking this information, and often will eliminate those leaking this information. Now I'm going to bring you all these alien secrets that I've been working hard to unbury!
Sure, the government won't be too happy with me when they get wind of this new book, but that's nothing new. Me and some of these government agencies have been at odds for years. (Soon as the time is right, I'll release that information too, it will make for interesting reading). Among the many experts I'm releasing information from, is the amazing Nikola Tesla.
You may have heard of his investigation into strange signals being received from space, but you won't believe that he was actually in continuous communication with the aliens for years usually special electronic equipment and even able to pinpoint where the signals were coming from! Information from reliable sources claims that Tesla was receiving help from the aliens in bringing about many of his fantastic inventions!
Tesla even designed a flying saucer, figured out how alien craft worked, designed weapons to repel an alien invasion and much, much more. He was so successful that the government actually seized a lot of his papers and classified many of his inventions as top-secret. His ideas are the basis of the Star Wars system designed to protect the World from an alien attack! And I'm sure you have heard of Colonel Philip Corso author of "The Day After Roswell, " but there is more to that story than just back-engineering artifacts from crashed UFOs that he wrote about in his book.
There were secret notes and diaries that revealed his actual contact with aliens, and their conversations, If you've read his book, you will be amazed by what was left out of it! Michael Wolf was involved with the government for many years and has revealed so much about aliens!
I've got so much for you to read, wow! Townsend Brown has actually duplicated alien technologies and discovered the secrets of their spacecraft propulsion system, and how they can withstand travel at faster than the speed of light! Many of his discoveries are being used today in our secret space program.
Ooops, I don't think I'm supposed to reveal information on that, oh well, too late. With this book, you will finally be able to understand the many secrets behind how UFOs work, how much of this alien technology is now being used by our government, some right in front of your eyes! Plus, you might even get a better understanding of aliens think! This is the information you've been searching for years for! There are so many more experts with hot information that I've shared with you in this book that you may be shocked.
And I'm sure you will agree with me that this book (#15 in the Blue Planet Project Series), is this most amazing book ever! 142 pages 8.5 x 11 spiral bound?
Blue Planet Project Book #16. SHADOW GOVERNMENT, TRUMP AND YOUR FUTURE - Conspiracies, Aliens, Illuminati. Just published - Get all the secrets to what's going in the government, who's really running the government and controlling the President! Why we may be facing more false flags under President Trump! Discover the power behind the Shadow Government's "Continuity of Government" program and how it can be used against us, and even against the president! The secret plane the Shadow Government has that outgun the Presidents Air Force One and even start and run wars with nuclear weapons!
Discover how the Shadow Government secretly controls every part of life. How they control and use President Trump. And what they have now planned for America and the World, can we stop them? Protect your future, you need to discover these secrets!
Here's is what FBI Director James Comey said privately about what is going on behind the scenes. Will Trump put us back on the gold standard? Find out the secret of gold, how it is being manipulated to make some folks very rich and others poor. The secret of aliens and our gold!
The real powers of gold - what makes it so special. How aliens used monatomic gold to increase their power a thousand-fold!
Are you ready to discover for the first time the secrets of the Shadow Government? Will you be able to handle it? You are going to get a giant spindle-bound (this makes it easier to lay flat and study all the information crammed inside here) manuscript with 138 big 8.5 x 11 size pages! ALIENS ON THE MOON - - Get these NASA Secrets! The Aliens on the Moon are the real key to the human, alien connection!
My friend, with this book in your hands, you'll never again wonder about what's really happening on the Moon and how it relates to aliens on Earth. Your friends and relatives will be so impressed with how smart you are!
How much longer are we going to listen to NASA imply that our Moon is just a cold, lifeless rock that's not worth exploring anymore? And then they nuke the moon and give us a silly explanation about it was just to look for water! They try to fool us and block radio communications from the astronauts explaining that they are surrounded by aliens and that they were even greeted by one as they stepped out onto the Moon! So, if you frighten easily, stop right there, But, if you are ready to find out what is really going on, keep reading! I've been able to put together a complete picture of the Moon's alien presence, based on a long history of Moon observations, scientific facts, official contacts I have that want to see the truth revealed, and most importantly, from NASA, through leaks from their staff, communications, photos and scientific information they have failed to alter, or hide completely. It must be driving NASA crazy as they try to pretend nothing is going on as they stumble upon alien bases, cities, and industrial applications and aliens are popping up everywhere around them as they are trying to block the camera lenses, turn off radio communications and switch to secure frequencies that we can't hear. Here's just a small preview of what awaits you inside this, probably my most amazing and fact-filled book ever. Where the Moon came from and what it is actually made of. NASA won't reveal this but I sure will! How the Moon is constructed and what this makes it the most unusual heavenly object we've ever discovered. Did you realize that it hasn't always been here in our neighborhood? Find out when it arrived here, totally amazing info! Observations of strange occurrences recorded astronomers over the last couple of hundred years!
You'll get to see NASAs official log books of strange occurrences on the Moon! I hope they don't miss these. Here's a bunch of strange sightings that NASA has observed and documented on the Moon, but really hoped to keep it from you. For your enjoyment, we have communications from Astronauts on the Moon and even communications to the astronauts from aliens on the Moon! And some Astounding Lunar Anomaly Images!
Plus, information on cities and bases found on the Moon! Here's what happened with the Hubble Space Telescope and why they are afraid to show you what it recorded on the Moon! Have you been wondering why so many US and Russian Moon probes crashed or missed their mark completely?
I'll share this info with you. Here's what NASA, Government informers that have leaked about what is really going on!
And here's proof of the Secret Space Program they have been trying to keep from us, wow! And most importantly, here's what the aliens are doing on the Moon, what it means to us, and what the aliens want us to know about what is really going on! I almost forgot, there is a whole section in the book of revealing NASA photos. Better hurry and order this book before NASA finds out I have all their secret stuff!
Did I tell you that I live right across the river from NASA Langley? But don't tell the folks at NASA! 132 large 8 1/2" x 11" pages, comb bound with full-color photos.
Published by Blue Planet Press, March 2017. #18ALIEN ABDUCTION The truth revealed, Blue Planet Project Book. Just released: Now you can get the real story on what has been going on!
Alien contact in the form of human abductions is the best evidence we have that aliens exist and that UFOs are real and are visiting our planet frequently! But, unfortunately, these contacts are very often ridiculed or received with disbelief. Abductees are shunned or laughed at. Combine this with embarrassment and the shame felt by these victims and you will wonder why anyone would ever mention these occurrences to anyone.
And on top of that, most abductees probably don't even remember these occurrences, plus the memories that occasionally pop up are most likely suppressed because they are very disturbing. And even then, these bits and pieces of memories may actually be just screen memories planted by these alien abductors to cover up what actually happened to them. So, what do we do? Will we ever learn the truth? My Friend, that's why I finally wrote this book! Alien abductions are serious business. Something very important is going on and we need to get to the bottom of this and release this information today.
What's going on now just may be the biggest thing effecting our future the future of the rest of this planet! While we occasionally hear stories about alien abductions in the media, they are most likely treated lightly, but some researchers claim this is a serious epidemic with the actual occurrences being in the millions!
Are these abductions for real? Well, our government takes these very seriously. Whitley Strieber mentions in his books how after his abductions, black government helicopters showed up in the area. And many abductees have been visited by government agents anxious to find out what they were told by the aliens.
Often, these folks are treated as accomplices to the aliens rather than victims. And then there are the reported visits by those resembling the Men in Black demanding any evidence they may have of the visit, such as photos taken.
And then they are warned to keep quiet about what happened to them. Are you ready to discover these shocking stories of alien abductions? 134 - 8.5" x 11" pages, comb bound to make it easy to work with!
#19 RUSSIAN BOOK OF ALIEN RACES - Blue Planet Project Book. The secrets of the Russians contact with aliens that was guarded by the KGB!
Possibly one of the most revealing and controversial documents originating from Russia has now been made available to you in print! Has this book put us a giant leap ahead in the search for answers about the extraterrestrials? That's a question you will have to answer for yourself, but I guarantee you will not be the same after reading this information and examining the many facts, photos, illustrations and drawings. Ever since "The Book of Alien Races" was translated from Russian into English by Dante Santori, a former special forces sergeant from Europe, this secret book has created a major stir among researchers. The USSR, throughout history, has been a treasure trove of information on ETs and their craft.
We've long had hints on their abilities to obtain UFOs and make contact with aliens. But this information was well-hidden behind the Iron Curtain. Now, with the release of this book, all that has changed! The original 1946 book was written to inform KGB agents of the various alien races who had visited our planet and also was used as a notebook by secret agents as they constantly made additions and revisions to the original startling information over the years.
The fortunate reader of this book will be imbued with knowledge of alien species, descriptions, their ships and place of origin, as well as information on how alien races have contributed to human evolution here on Earth. You will also discover the negative aspects and possible intentions of some alien races.
And there's more, such as information on UFO crashes, Russian contact with aliens, Russian attempts to build their own alien craft, and an amazing section containing communications from aliens! These contain information on the history of humans on Earth, contacts and intervention by different alien species, advice and some predications from aliens! 138 large 8.5" x 11" pages is plastic comb-bound to make it easier to open flat for studying. This government report style book with color photos will amaze you! MONTAUK PROJECT - Blue Planet Project Book #20 - Montauk Base is still alive! Discover the shocking facts that have just been unearthed: Philadelphia Experiment, Brookhaven Lab, Time Travel, Materializing A Beast, Teleportation to Mars, Mind Control Experiments, Psychological Warfare Techniques! Now with the release of the MONTAUK PROJECT BOOK, the whole story can finally be told! You will discover the shocking secrets hidden until now behind the stories of the Philadelphia Experiment, Montauk Base with up 12 underground levels that may still be operating, and Brookhaven National Laboratory which dates back to the Philadelphia Experiment and is still operating today! Brookhaven not only may have inherited the shocking projects from the Montauk Base, but appears to have turned them into the most bizarre assortment of Earth-Shattering discoveries that ever existed in the name science, human control and warfare! Plus, there are so many rumors that Brookhaven may have been involved some of the major tragedies affecting not only Long Island, but the World!
In writing this book, I wanted to finally search out the Montauk Base mysteries that have intrigued me since 1981. I wanted to find out if there really was any justification for believing the unbelievable stories I had been hearing. What I discovered is that most of it is not only true, but there is more to it than we've told! And Montauk Base is still alive today and its tentacles have stretched so far that we cannot escape them!
The following information is so bizarre that you will swear that it could never have happened! Because these projects are so secretive, gaining hard evidence is very difficult. Over and over again you will run across denials from government authorities claiming that it never happened and offering proof in the way of documents showing that the ships or personnel were somewhere else at that time or that what is claimed just goes against the laws of physics.
However, that doesn't mean these projects never existed and the cover-ups by the government goes to show that it really happened! This book is for those who want to pursue and know the whole truth! We are going to reveal the most amazing and secretive research project in recorded history - The Montauk Project!
138 large 8.5'x11' pages comb-bound (Just like a classified government report) to make it easy to open up flat and study all the revealing facts! ALIEN MESSAGES - A Blue Planet Project Book! An alien speaks out about our planet and how we are being controlled and manipulated! Aliens are beginning to channel amazing, powerful information to receptive human contacts!
This particular alien reveals everything about our world today, offering advice, warnings and predictions! Aliens have come through and are claiming to be fed up with the World governments that they've had deals with and have continuously been betrayed by the failure of governments to reveal the presence of aliens on Earth. Instead there are efforts by our governments to villainize the aliens and to keep them quiet about what the World elites have planned for us.
The aliens are now stepping up efforts to make us aware of who they are and what they are doing here. They want to reveal what the elites are really up to and how their plans will greatly affect our lives with the elite's efforts to control and destroy us. If you really want to discover what is going on and what has been going on with this planet for eons of years, you need this book.
I'm honored to be able to make this information available, even though I've been told that there are those in high positions in the government that are now getting fed-up with me. This book has been written to let the aliens reveal the truth of our planet, our history here and what is ahead for us, revealing the good as well as the bad so you can be prepared. The aliens will no longer keep quiet, they want you to know what is really been happening on the Moon, and how we have been banned from the Moon as well as Mars due to our destructive activities. Yes, you thought it was just one alien base on the Moon that we nuked, they are going to reveal that there were more.
And these weren't bases belonging to hostile alien groups, these were long established bases and trading posts belonging to learned and peaceful alien races. And there is so much more to learn from them about the Moon.
Yes, we did send astronauts to the Moon, but it wasn't those we claimed went to the Moon, it was astronauts you've never heard of! And they will explain about the technology on the Moon. Want to find out all the details about Nibiru? Info that the government wants to keep from us but the aliens are anxious to reveal! Advice that just might keep you safe. Learn the truth about the human race, what really happened here and where we came from.
Learn about other alien races as well as what's happening on other planets. They have also revealed how their craft works and why we will never be able to duplicate their craft. Amazing secrets of how they are designed and exactly how they travel the great distances, and even why some of them crash when they come to our planet! Information on underground bases, theirs and ours! Is this really a prison planet we live on?
Are we ready for alien disclosure? What about the ancient alien technologies hidden on this planet? Warnings about the extermination of humans planned by our elites! Discover the aliens interest in protecting, us, the animals and this planet.
The various nuclear problems here on Earth and how they will be handled. They want to demonstrate to you how you can personally take advantage of such things as cosmic power for a better, healthier, and longer life!
And even get more info on our lifespan! Really, this book contains so much knowledge that you need to take advantage of!
It's like all your questions are being answered for the first time. You are going to get a giant comb-bound government report style manuscript with 118 big 8.5 x11 size pages! THE YELLOW BOOK reveals history of our universe as recorded by the Aliens!
Are you ready to discover secrets of THE YELLOW BOOK and how the Aliens explain the creation of the Universe? The YELLOW BOOK or Bible is the alien's history of our universe written by the aliens themselves as well as their interactions and involvement with Earth's development. It was brought to Earth and presented to the U. Government at the famous Holloman AFB landing in April 1964 by female Ebe #2! For years there have been rumors floating around about the YELLOW BOOK and its being an immense source of unlimited knowledge concerning the history of our planet, the history of the aliens on their planet, their interactions with us humans and so much more!
Amazingly this YELLOW BOOK isn't a book, it's more like an alien iPad with unlimited access to an ultimate source of knowledge and a power source giving it unlimited power! You will soon discover all the secrets of the YELLOW BOOK as well as the RED BOOK, which is a very large book maintained by the U. Government and used to record information and revelations of what the aliens have revealed on the history of Earth, about their planet and the Universe!
This information about the aliens comes from what they've learned from the YELLOW BOOK and other intelligence and the some of this highly classified information is used for Presidential Briefings. Discover how our government has learned to access these secrets in the YELLOW BOOK! You will be amazed when you read what Bob Lazar reveals about what he gleaned from the YELLOW BOOK'S unlimited source of knowledge and how he claims it works, it is really an eye-opener!
While I don't claim to have discovered everything there is to know about the YELLOW BOOK, that may be impossible, but you will be amazed with what I have to reveal to you! You will discover where the Ebens claim to be from, our creation and why, the source of our religion, what they have recorded about Jesus and so much more that your head is liable to explode!
This is Book #22 in the revealing Blue Planet Project series of books on Aliens, UFOs and Government Conspiracies. 121 large 8.5" x 11" pages, spiral bound. Battle of Los Angeles - Fighting off an Alien Craft! Blue Planet Project Book #23 Leaked documents shed new light on this 1942 alien attack on Los Angeles! They tracked a giant alien craft on radar from 120 miles off the coast as it headed towards Los Angeles and followed its deliberate path along the shore, behind mountains and around the largest gun emplacements.
Then after firing over 1400 antiaircraft shells at it, the military said it was nothing, just jittery nerves, our imagination or even a weather balloon. Times wasn't afraid that we couldn't handle the truth that it was a possible extraterrestrial attack and didn't hesitate to publish that famous photo showing the image of a very large alien craft at the end of the searchlight beams and in the middle of the bursting shells!
And now I won't hesitate to bring you the full story of what really happened and how many of the Los Angeles residents saw what really happened on that day in 1942, some from close-up! Yes, that photo showing an ominous, saucer-like craft hovering over the city may send chills down your spine, but I'm going to reveal what really happened and the secret of what happened to this UFO! Remember the massive cover-up at Roswell where the residents were threatened with being locked up for years and several that were close to the truth died under mysterious circumstances? Well the Battle of Los Angeles happened a full 5 years earlier than Roswell, so you can imagine how frantic the government was to keep the truth hidden! So, if you no longer fall for that weather balloon line, follow along with me as I share the truth with you!
#24 Blue Planet Project Past Lives Book - Reincarnation & Regression! PAST LIVES IN TODAY'S WORLD! Plus you can use these Reincarnation Secrets to discover Your own Past Life! This is the extraordinary real-life experience of Lauren and Gary. It all began on February 22, 2017, when I visited a local restaurant for the first time. A young woman named Lauren waited on me. I was soon overcome by this powerful feeling that I had known Lauren for many years, but my mind was telling me I had never seen her before.
On return visits, when I got close to her and would glance into her eyes, it was as if I was looking deep, deep into her soul! And that was just the beginning! But read about what happens as this story quickly progresses, it may shock you just as it did us. As you live through the last year and a half with us, I guarantee that just as with us, your head will not be the same again.
Most books written over the years about past lives seemed rather boring to me, but what Lauren and I have just experienced was far from boring, it is something we will never forget. Something our spirit guides described as: A MAJOR EVENT that had been in the planning stages since 1748 and could not have taken place until this lifetime! " Why did Lauren say: "Have you ever been a doctor?
" and "We have to find out more! Plus, we will show you how to use our secrets, so you can easily discover and benefit from your past lives! Signs Your Soul Has Reincarnated Many Times; Indications You Have Lived a Past Life. Past Life Dreams and Readings! 99 8"x11" large pages, plastic comb binding like an official government report!
ALIEN BLOOD ALIEN DNA - Blue Planet Project Book #25 - Aliens and UFOs Do you have Rh negative blood? You could have alien connections! Thanks to astronomical leaps in DNA sequencing and powerful new methods of DNA research, scientists are uncovering amazing new discoveries connecting alien and human life here on Earth that they simply are not ready to reveal to us! These revelations will rock civilization as we know it here on Earth!
Nothing will be sacred anymore, religion, politics and everything else that kept us under control will soon be shattered! They don't want us to find out we have been deceived throughout our whole lives. But we must discover these truths for ourselves, and I will not hold back in releasing this information no matter what groups I upset. I don't know if you are fully aware of all the changes that have been taking place in us humans recently, we are not the same, we are operating at a higher vibrational level. We no longer have the same makeup that allows us to sit idly by in fear while we are being deceived.
We not only can handle the truth, but we demand it. And this is just the beginning! There is so much information that is streaming out now, not only that aliens exist, but that we have many connections to them.
The scientists and our government that have been telling us that we haven't discovered aliens yet and if they exist they may be out there on some far-off planet many light years away, but not to worry, if they are out there they will find them some day. Well I have news for them, the aliens are here now, and they have quietly been working with humans for a very long time. All this talk about disclosure? We'll there is nothing the aliens want more than disclosure and are working towards it themselves. They want you to know what has been going on and who they really are.
But let's get back to what I'm revealing in this book today. Scientists are now admitting that human DNA was created by the aliens and they have irrefutable proof of it. Proof that I will make sure you get! Yes, they have now discovered that humans were designed by a higher power, with a "set of arithmetic patterns and ideographic symbolic language" encoded into our DNA. According to their research: Our hypothesis is that a more advanced extraterrestrial civilization was engaged in creating new life and planting it on various planets. Earth is just one of them! I have all the details on this and much more. By now I'm sure you've heard about Rh-negative blood being extraterrestrial, and why those that have this blood type are most likely descended from aliens! Have you ever felt that you never really belonged in this world? Do you have a fascination with space and the universe?
Do you feel that you have some sort of mission in life to seek the truth and help mankind? Do you also have Rh-negative blood? Find out more with this amazing book! You are going to get a large comb-bound government report style manuscript with 96 big 8.5 x11 size pages! #26 Grey Aliens: The Unsealed Files, A Blue Planet Project Book!
The Grey Aliens are us in the future, and also our ancestors! Find out who the Greys are and at the same time discover who you are! You may feel that this a just a book on aliens, but you are in for a shock! For you are going to begin an experience of great magnitude that no mere book can open you up to!
To begin with, you will discover amazing secrets of the Grey Aliens, information you didn't realize existed in a format available to us Earthly Humans. This will then lead you to discovering what they know about us and the Universe. What has happened in the beginning, the present and the future. Receive knowledge of steps they are taking to enhance us, why and how. Find out where all this is going.
Learn about the new Global-Vision that we are being enhanced with. You will be told so many secrets of the Earth, Universe and galaxies in the words of the Greys through the efforts of several channelers. Just reading these enlightening messages from the Greys will cause your consciousness to rise to higher levels understanding than ever before!
This knowledge will lead you to the realization of what you have been missing by thinking of your life just in terms of a physical existence and creating with just a physical process exclusively when everything here around us, including our human forms were created first in etheric, non-physical forms and then extended into the physical substances. And we thought that just the physical dimension was all that was behind everything. You are going to be in for a surprise!
110 Pages with photos in full color! #27 PROJECT BLUE BOOK UFO SECRETS - A Blue Planet Project Book, Aliens and UFOs Brand new blockbuster book from an author that has the guts to reveal the top-secret findings of the US government about UFOs! This is the 27th book by Gil Carlson, a Virginia UFO investigator that dares to reveal all the government's secrets on UFOs, aliens and conspiracies. And now the secrets of the Air Force's Project Blue Book will soon be yours! Back in the 50s and 60s, while publicly dismissing the existence of UFOs, the US Air Force was engaged in a secret program for evaluating every report of unidentified flying objects. Under the code name, Project Blue Book, the Air Force analyzed over 13,000 incidents. Their goal was to look into each UFO sighting, to assess the security threat for each incident, determine how to obtain the alien technology and release information on the unimportant sightings to the gullible public. Isn't it about time that you found out about the secrets they have been trying to hide from you? Are you ready for this chilling evidence that we are not alone?
It is all here, government documents, the testimony of scientists, the military, pilots and thousands of citizens all over the country who have witnessed scenes of alien craft that they will never forget! I'm going to share with you hundreds of their case files that they could not explain and did want us to ever hear about. These are their case studies that became available to me before they had a chance to hide, censor or alter them! You are going to be startled that such amazing information even exists, let alone is in my hands and ready to be shared with you!
I believe that this is the only book available today with everything you want to know, a book that will shock and enlighten you, not put you to sleep. #28 UFO LANDING AT SOCCORO: Zamora Incident Book from Blue Planet Project. AN ALIEN CONTACT CASE STUDY that will amaze and shock you! A UFO SIGHTING that will change how you look upon the whole UFO situation and the lies the government tells us!
This, one of the best-known and strongest UFO cases from the BLUE BOOK FILES involved Lonnie Zamora, a police officer who witnessed an unknown craft and two short beings in Socorro, New Mexico, in 1964. While chasing a speeding car, Zamora heard a loud roar and saw a flame rising in the air. When he turned his attention, he noticed a shiny object, Zamora quickly realized this was, in fact, an EGG-SHAPED CRAFT, with an odd, red-colored insignia and no doors or window. It was the size of an average car. Then he observed TWO BEINGS dressed in overalls and seemed startled by Zamora's presence. Then he heard a loud sound, saw a blue flame underneath the craft, and finally saw it take off in a straight line for several miles. There were other eyewitnesses at different locations, who also reported seeing the unusual craft in the sky. Plus, investigators - including Air Force personnel, the FBI and Project Blue Book's J.
Allen Hynek - thought that Zamora had, in fact, observed something they couldn't easily explain. The investigation also yielded evidence in the form of LANDING MARKS and FOOTPRINTS, as well as SCORCHED BRUSH around the area where Zamora said the object was sitting on the ground. In the end, both the object and the two beings that Zamora described were deemed UINIDENTIFIED. Are you ready to discover more about this event and its body of evidence that is considered one of the best documented and most perplexing of all UFO REPORTS? This is Book #28 in the revealing BLUE PLANET PROJECT series of books on ALIENS, UFOs and GOVERNMENT CONSPIRICIES.
101 large 8.5" x 11" pages, spiral bound. #29 DEATH BY 5G TOWERS - Blue Planet Project Book Haarp, Chemtrails, Microwave Weapons.
The ultimate conspiracy that may destroy us! 5G Networks, Weaponized Cell Towers, HAARP Weather Modification and Chemtrail Spraying of the Atmosphere have now all been linked together all in one giant conspiracy against us by our government!
They've finally created an effective way to get rid of us pesky humans! Every part of this new 5G Network program is shockingly destructive to the Earth and to human life itself! I'm sure you will be as shocked as I was when I started looking into all the facts. Even though this has been introduced as an amazing technological marvel that will offer so much to our world, I believe that instead worldwide suffering and destruction could very well be at our doorstep!
This new 5G technology is not really a step from our present 4G it is a whole new horrendous technology that is already showing signs of damage to human life, but also to the environment, plant and animal life. So, if you survive the EMF radiation, there will be nothing to eat - plant and animal life will no longer flourish! Our atmosphere and the surface of our planet will also be poisoned! Think I'm just exaggerating? Let's take a careful look at each part of this new technology as I reveal them in this book and then see if you still want to take the risks.
The piggybacking of the Chemtrails with the 5G network. Yes, the Global Geoengineering Program which threatens our health and environment by spraying heavy metals into the atmosphere will be teamed up with the 5G network giving them the ability to rapid spread what amounts to "Death Rays" around the World causing wide-spread destruction of human life on this planet! There will be no hiding from it.
This is a mass surveillance system. They can track and trace anyone anywhere which this technology. Additionally, it's equipped with beam-forming technology which allows it to basically lock on to targets and direct a focused beam of electromagnetic waves to that target. You will not be able to escape from this programmed assassination!
Discover every aspect of this program and look at what is happening now and in the future. Will you be able to escape? I'm anxious to get this powerful book into your hands - Don't delay!
I don't have room here to cover everything that's in this book, but I guarantee you will be amazed and overwhelmed by everything that the government has been trying to cover-up! For example, remember how they've been telling us for years that there is no such thing as Chemtrails, that they are just plain old contrails? And it is just our imagination? Well, I got a hold of the Air Force's official operating manual that explains what Chemtrails are, why they are doing it and how they do it! And I have reproduced it and published it at the end of this 5G Towers book!
110 large 8.5 x 11 pages. The same plastic comb bound format as used for official government reports. Area 51 Official Security Manual - Don't Storm Area 51 Without This.
From Blue Planet Project - Storming Area 51 to find aliens? Do you know what awaits you and the two million others? I can tell you because I just got away with a copy of the Area 51 Security Manual! And this is really revealing. To begin with, it describes everything about the super high-tech sensors that cover Area 51. In the section on "Field Sensor Guide" it describes the sensors planted throughout the ranges. They look like pots and are marked "Government Property" and they are able to monitor vehicles and individuals entering leaving Area 51 through the BLM public lands land next to Nellis. These sensors are spaced every half mile or so. Triggering them will soon bring the security guards, better known as the "Cammo Dudes" to block your entry onto Area 51.
You'll also discover so much amazing secret info about Area 51 once you get your hands on one of these Security Manuals such as other intrusion detection systems, security standard operating procedures, and other emergency procedures. Find out what is happening behind the scenes at Area 51. And yes, I've arranged to share these with you, but be advised that there are only so many available, so don't delay. You and a few of your friends will not stand a chance, even with the help of this Security Manual. I'm hoping that reading this Security Manual will make you realize how futile any attempt to trespass onto or near Area 51 will be and maybe I can save a few lives.
All the publicity has made Storming Area 51 seem like another Woodstock. Just consider that there will not be any McDonalds, gift shops or port-a-potties.
This is the highest security base we have; they won't even let the President in, do you think they'll let you sneak in? These folks had a part in developing mind-control weapons, reengineering alien weapons, microwave crowd control and even plasma weapons that can shoot down UFOs! Army at their disposal, and nukes are stored right next door. And who knows what kind of secret weapons they have developed that would turn everyone into Jello! They could just seal themselves up in their bunkers and let the two million invaders run wild and soon they'd run out of food and waters and start attacking their friends for their supplies.
Many would get lost and not find their way out of there and die from heat and exposure. And don't forget about the deadly rattle snakes, the soil which has been contaminated with radiation and who knows what else. They could even practice spraying chemicals over the crowd chemtrail style. Or even test a nuke at the test site next door so everyone would go home glowing in the dark.
Consider that maybe this is just a government plot to bring people there because they ran out of food for the aliens! My friend, just stay home and read your copy of the Security Manual. 112 Large 8½" by 11" pages with plastic comb binding like a government report. Area 51 Secrets - Guide to Storming Area 51 and Secrets of the Aliens. A Blue Planet Project Book: Area 51, for years shrouded in secrecy.
I'm Gil Carlson and I've written 31 books on aliens and conspiracy, all based facts that the government has been trying to hide from us and I'm not stopping now! Want to see maps and photos?
I have the answers to what's really going on at Area 51! Aliens and alien craft that they say has never been there and doesn't exist, ready for the proof that I possess? And there are those top-secret supersonic planes such as the U-2, Oxcart, Blackbird and A-12 that are associated with Area 51, but I'm going to let you know about the ones that are still being kept secret!
What's it like inside Area 51 that is kept secret from outsiders? Want to see my maps and pictures?
Want to Storm Area 51? You may change your mind once you see what I reveal about their security system! This will be the most helpful book you can use, but I'd advise you to just stay home read this book and discover more than you learn by going there and getting shot at! Discover underground facilities, black ops weapons systems, mind control and teleportation! What does Robert Lazar have to say about Area 51 and the aliens? Just released and will soon be the classic book on Area 51 unless it is banned first.
108 Large 8½" by 11" pages with plastic comb binding like a government report. US Air Force Secret Space Program - A Blue Planet Project Book. This powerful Secret Space Program book reveals the mystery of aliens and UFOs that have plagued us humans here on Earth since we've been here! And you will discover the truth about how we've been working with alien races here and throughout the universe!
Shocking, most revealing, up-to-date report on the Secret Space Program you will ever read! With revelations on the new Space Force and the US Navy Secret Space Program! Our presence throughout the galaxy with military and even civilians forced into slavery!
Military weapons being used in space! Actual and major planned changes to other worlds! Our Moon occupied by human and alien races! Secret bases throughout outer space! All the Secret Government Projects, revelations from 31 informers!
Secrets of UFO antigravity propulsion systems that we are now using! This book will take you to where no writer has ever gone before!
Will this book and its revelations remove your blindfold and free your mind from what's holding us back? Now with the creation of the Space Force, watch for the revealing of the secrets long hidden in the Secret Space Program.
Alien Races we've been working with, Exotic Spacecraft, Extraterrestrial Weapons, Technology and so much more! There have been many strange revelations on our involvement in space over the years.
So many bizarre stories have appeared that seem unbelievable which is why I have stayed away from covering them. But today, as we look at all the programs and discoveries that are now starting to become commonplace in this world and beyond and you realize that these were once considered just sci-fi stories, we will understand that nothing is really impossible today! Our government has been involved in activities on other planets and even in other galaxies, if you knew the full extent of where we've been and what we are doing there, it would take you beyond being shocked.
The fantastic, unbelievable technologies they are in control of, that could destroy vast galaxies and numerous forms of life or also in right hands could be put to use here on Earth to bring amazing improvements in health and longevity, transportation and so much more! You will soon understand that we are living in a whole new world and they are no longer able to keep it from us.
But also, that we as individuals are no longer playing in the sandbox, we now have responsibilities at a much higher level that match the higher dimensions we are entering. That's for each one of us to realize and act upon on a personal level! 131 Large 8.5" x 11" pages with plastic spiral binding in the style of top-secret government reports. Please check out the other Blue Planet Project books and book sets that I have listed as well!
The item "Blue Planet Project Book Set All 32 of the Alien, UFO and Conspiracy Books" is in sale since Wednesday, August 26, 2015. This item is in the category "Books\Nonfiction".
The seller is "purpleguitarangel" and is located in Hampton, Virginia. This item can be shipped to United States, Canada, United Kingdom, Denmark, Romania, Slovakia, Bulgaria, Czech republic, Finland, Hungary, Latvia, Lithuania, Malta, Estonia, Australia, Greece, Portugal, Cyprus, Slovenia, Japan, China, Sweden, South Korea, Indonesia, Taiwan, South africa, Thailand, Belgium, France, Hong Kong, Ireland, Netherlands, Poland, Spain, Italy, Germany, Austria, Bahamas, Israel, Mexico, New Zealand, Philippines, Singapore, Switzerland, Norway, Saudi arabia, United arab emirates, Qatar, Kuwait, Bahrain, Croatia, Malaysia, Brazil, Chile, Colombia, Costa rica, Panama, Trinidad and tobago, Guatemala, Honduras, Jamaica, Antigua and barbuda, Aruba, Belize, Dominica, Grenada, Saint kitts and nevis, Saint lucia, Turks and caicos islands, Barbados, Bangladesh, Bermuda, Brunei darussalam, Bolivia, Ecuador, Egypt, French guiana, Guernsey, Gibraltar, Guadeloupe, Iceland, Jersey, Jordan, Cambodia, Cayman islands, Liechtenstein, Sri lanka, Luxembourg, Monaco, Macao, Martinique, Maldives, Nicaragua, Oman, Peru, Pakistan, Paraguay, Reunion, Viet nam, Uruguay, Montserrat.
Subject: Books on Collecting
Topic: aliens UFOs
Publication Year: 2013
Language: English