Dairy-Free Delicious Everyday Dairy-Free Cookbook Collection 2 Books Set New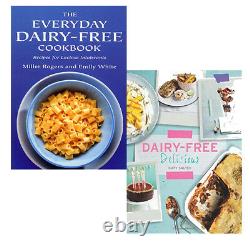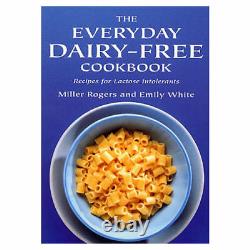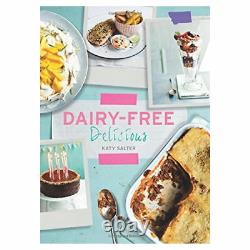 The Everyday Dairy-Free Cookbook - Recipes for Lactose Intolerants. Lactose is the primary sugar found in milk.
Digestion of lactose requires the enzyme lactase, which breaks lactose into simple sugars. When the intestine produces little or no lactase, milk sugar is not digested. New-born babies require high intestinal lactase levels for survival. Later in life though about two-thirds of all people lose the ability to procuce lactase. Most of the people who keep producing it throughout adulthood are those of European ancestry but in other ethnic groups - Mexican, Jewish, African, Asian and Native American - 75 to 100 percent of adults are lactose intolerant. Primary lactose intolerance may begin at any time but usually develops in early adolescence and continues through life. Lactose intolerance means avoiding foods such as cream, butter, yoghurt, and ice cream as well as many prepared foods to which lactose is added such as bread, ceral, salad dressings, cake mixes, and frozen meals. This book explains all you need to know about this condition, how to tackle the problem and where to go for help and advise. As with the other titles in this "Everyday" series the book contains 200 recipes for family meals and there is a special section on catering for children. There are recipes for soups, dips and starters, light meals, main dishes, fish dishes, vegetarian dishes, savoury sauces and accompaniments, salads and dressings, puddings, sweet sauces, sweets and treats, baking, pastry, breakfast, and beverages. This is a book packed with brilliantly appealing breakfast, lunch, dinner and baking recipes - that also happen to be dairy-free. Dairy-Free Delicious offers over 100 simple and irresistible recipes to inspire people to cook with imagination and eat their favourite treats. Many of the recipes are influenced by Katy's dairy-free travels, particularly in Asia where milk rarely features, and in the US - for example Thai fishcakes, Vietnamese chicken and pumpkin curry, Neapolitan iced buns and Coconut milk ice cream.
Even old favourites like pancakes, creamy chicken soup, fish pie, risotto, eggs benedict, custard tarts, chocolate cake and cookies prove that lactose intolerance is no barrier to eating irresistible food every day. UK sales of non-dairy milks have gone up 40% in the past 3 years and are predicted to increase by 56% by 2016; and the market was worth GBP519m in 2012.
Diagnosed with lactose intolerance in 2011, Katy Salter has created a cookbook for people who don't want to stop enjoying food just because their bodies refuse to digest lactose properly. This item is in the category "Books, Comics & Magazines\Books". The seller is "thebookbundleukk" and is located in this country: GB.
Author: Katy Salter
Subject: Food & Drink
Publication Year: 2015
Type: Collection
Subject 1: Diets & Healthy Eating
Subject 2: Low Fat
ISBN: 9781849494908
Format: Hardcover
Language: English
Book Title: Dairy-Free Delicious
Item Height: 225mm
Publisher: QUADRILLE Publishing LTD
Topic: Low-Carb Cooking
Item Width: 175mm
Item Weight: 780g
Number of Pages: 176 Pages