Dork Diaries Rachel Renee Russell Collection 12 Books Set Pack Skating Sensation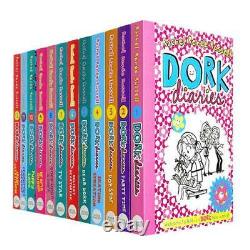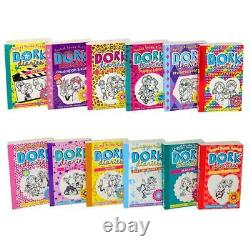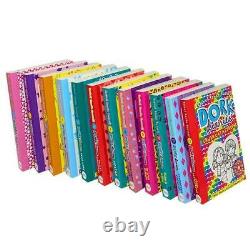 Dork Diaries Rachel Renee Russell Collection 12 Books Set. Nikki is spending a week at North Hampton Hills as part of the school transfer programme. The good news is that NHH is super-cool and preppy.
The bad news is that Nikkis nemesis MacKenzie started there two weeks ago! When the animal shelter Brandon volunteers at is too full to take a litter of abandoned puppies, Nikki decides to look after them until the shelter has more room. There's only one slight problem...
Her parents won't allow dogs in the house so Nikki has to hide them at home and take them to school in secret. But with seven puppies to hide, things are going to get messy... Is Nikki's plan going to end in a pawfully dorky disaster. But reading Nikki's diary isn't the only thing MacKenzie's interested in.
Get ready for Dork Diaries with a twist as MacKenzie takes over and tells all about her GLAMFABULOUS life! What does the queen bee really think about Nikki and her dorky friends.
Dork Diaries: Once Upon a Dork. After a bump on the head, Nikki has a wild dream in which she, her BFF's Chloe and Zoey, her crush Brandon, and mean girl Mackenzie all end up playing the roles of some familiar classic fairy tale characters. Will Nikki's dream turn into a nightmare.
Nikki and her friends are about to have their five minutes of fame! A reality TV crew is going to follow them for the whole month as they record their hit song together.
But will the excitement also cause unexpected problems, now that cameras are everywhere Nikki and her friends go? Is life in the spotlight really going to be all they think it is or will it be a Dork Disaster. It's the biggest dance of the year and Nikki Maxwell is hoping her crush, Brandon, wants to be her date. But time is running out.
What if he doesn't want to go with her? Or worse - what if he ends up going with Mackenzie? In the sixth book in the blockbuster Dork Diaries series - now with more than 8 million copies in print - join Nikki, Chloe and Zoey as they tackle the topic of love, Dork Diaries style. When Nikki Maxwell discovers that her arch-nemesis, Mackenzie, has started writing a gossip column for the school newspaper she's worried that Mackenzie might be about to reveal some secret info about Nikki's crush, Brandon, that she knows he won't want the whole school to find out about. To keep an eye on what Mackenzie's up to, Nikki decides to join the newspaper too, and somehow ends up working as the advice columnist, Miss Know-It-All.
At first it's fun to answer all the letters from the kids at school. Nikki Maxwell isn't at all surprised to find out that her crush Brandon volunteers at a local animal shelter.
He's such a sweet guy - of course he wants to help those adorable puppies! Then Brandon tells her that the shelter is in danger of closing, and Nikki knows she can't let that happen. Especially when she discovers a shocking secret about Brandon that makes keeping that shelter open more important than ever. Nikki and her BFFs are all counting down to the end of the school year.
Nikki thinks she has her summer all figured out, with lots of fun plans to hang out with her friends and her crush, Brandon. It's going to be perfect! But then a new boy turns up at school and shows an interest in Nikki and things become confusing super-quickly! The last thing Nikki wants to do is hurt Brandon...
What do you do when you accidentally crush your crush! Nikki Maxwell's school is holding a talent competition and Nikki can't wait to start practising dance moves with her BFFs, Chloe and Zoey, and impressing Brandon, her crush, with her singing skills!
Nikki is finally starting to adjust to life at her new school and things are looking up. She's made some real friends and her major crush, Brandon, even asks her to be his lab partner in science, Hello! But when Nikki overhears mean girl Mackenzie bragging that Brandon's going to take her to the Halloween dance, a bummed Nikki agrees to spend Halloween at a kids' party for her little sister Brianna.
Nikki Maxwell has just started at her new school and is determined to make a fresh start, leaving her dorky past behind her. But when you're the girl who spills spaghetti over herself during lunch, or who dresses as a giant rat for Halloween, or whose dad drives a van with a giant cockroach on the roof, it's hard to transform from loser queen to queen-bee overnight. We are dedicated to ensuring the highest possible quality service to our customers. You can send us a message by using the "Questions and answers" section towards the bottom of the page.
The item "Dork Diaries Rachel Renee Russell Collection 12 Books Set Pack Skating Sensation" is in sale since Thursday, April 18, 2013. This item is in the category "Books, Comics & Magazines\Books". The seller is "books4peopleuk" and is located in Leicester. This item can be shipped to United Kingdom.
Format: Paperback
Age Level: Ages 9-12
Special Attributes: Collection/Box Set
Title: Frenemies Forever
Series: Dork Diaries
Topic: Boys' Interest
Language: English
Publication Year: 2019
Book Title: Dork Diaries
Author: Rachel Renee Russell
Publisher: Simon & Schuster
Genre: Humour
Type: Novel