Gabor Maté Collection 5 Books Set Myth of Normal Daniel, When the Body Says No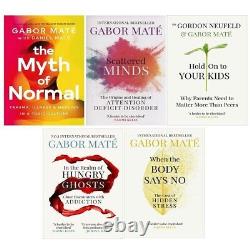 Dr Gabor Maté 5 Books Collection Set. The Myth of Normal [Hardcover]. Over four decades of clinical experience, renowned physician and addiction expert Dr Gabor Maté has seen how health systems neglect the role that trauma exerts on our bodies and our minds. When the Body Says No.
Drawing on deep scientific research and Dr Gabor Mat's acclaimed clinical work, When the Body Says No provides the answers to critical questions about the mind-body link - and the role that stress and our emotional makeup play in an array of common diseases. Hold on to Your Kids. In Hold on to Your Kids, acclaimed physician and bestselling author Gabor Mat joins forces with Gordon Neufeld, a psychologist with a reputation for penetrating to the heart of complex parenting. Together they pinpoint the causes of this breakdown and offer practical advice on how to'reattach' to sons and daughters.
In the Realm of Hungry Ghosts. In this award-winning modern classic, Gabor Mat takes a holistic and compassionate approach to addiction, whether to alcohol, drugs, sex, or anything self-destructive.
He presents it not as a discrete phenomenon confined to a weak-willed few, but as a continuum that runs through. Gabor Mat is a revered physician who specializes in neurology, psychiatry and psychology - and himself has ADD. With wisdom gained through years of medical practice and research, Scattered Minds is a must-read for parents.