Goosebumps HorrorLand Series & Scream Street 31 Books Box Gift Set Collection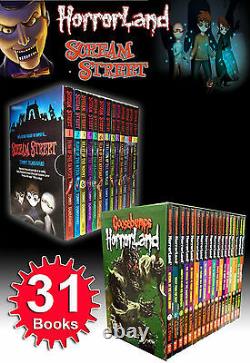 You Be Dead Please To Dropped By. Exclusive Collection Of HorrorLand & Scream Street. Must Have For All Spooky Stories Fan. Revenge of The Living Dummy, Creep From The Deep, Monster Blood For Breakfast, The Scream Of The Haunted Mask, Dr Maniac Vs Robby Schwartz, Who's Your Mummy, My Friend Call Me Monster, Say Cheese- And Die Screaming! Welcome To Camp Slither, Help! Fang of The Vampire, Blood of The Witch, Heart of The Mommy, Flesh of The Zombie, Skull of The Skeleton, Claw of The Werewolf, Invasion of the Normals, Attack of the Trolls, Terror of the Nightwatchman, Rampage of the Goblins, Hunger of the Yeti, Secret of the Changeling, Flame of the Dragon.
Escape From Horrorland, The Streets of Panic Park, When the Ghost Dog Howls, Little Shop of Hamsters, Heads, You Lose, Weirdo Halloween, Wizard of Ooze, Slappy New Year! Goosebumps HorrorLand Series 18 Books Collection.
Revenge of The Living Dummy. Stine invites you on an all-new, all-terrifying adventure! The thrill ride begins when 12-year-old Britney Crosby encounters an old ventriloquist's dummy with a lively secret - and a wicke plan Just when she thinks the nightmare is over, Britney receives an invitation to an amusement park where everything is not as it seems. Who - or what - is summoning ordinary kids to HorrorLand?
Britney and her friends must find out fast - or remain trapped forever in the scariest place on Earth. Billy and his sister, Sheena, unwittingly dive into a terrifying mystery when they accept a surprise invitation to HorrorLand - the amusement park that always lives up to its name. At least, he used to be. When Matt ordered a container of Monster Blood from a weird website, his only intention was to play a harmless practical joke. But the joke's on him--and so is the mysterious green ooze.
He's even eaten some of it! As if Matt's problems weren't big and slimy enough, an invitation to HorrorLand is also on its way. Can Matt and his sister survive inside a terrifying scream park where trouble lurks behind every turnstile?
The Scream Of The Haunted Mask. After the worst Halloween ever, Carly-Beth assumed that nothing could be scarier than a drooling rubber mask with a mind of its own. But now Carly-Beth has discovered something far scarier: an entire house full of haunted masks!
If Carly-Beth can survive the night, even a terrifying amusement park like HorrorLand might seem like a vacation. Dr Maniac Vs Robby Schwartz. Robby creates his own comic strips so he can freak out his friends and family.
His favourite character is Dr Maniac, a villain with a wicked grin and evil superpowers. And now Dr Maniac is on the loose. In the real world Will Robby survive his encounter with Dr Maniac and join the other kids who have been summoned to HorrorLand? Either way, danger is drawing closer and closer. Someone - or something - is inviting ordinary kids to HorrorLand and trapping them there. But they're not the only guests of the terrifying theme park where nightmares come to life. Slappy the Dummy, Monster Blood, and other vile villains have joined the terror trip, too. And HorrorLand is about to add one more old fiend to the guest list: a cursed mummy.
My Friend Call Me Monster. But that's not all. Say Cheese- And Die Screaming! And now an eerie camera is predicting trouble: Somebody might be gone in a flash!
Twelve-year-old Boone and his sister Heather love animals of every kind. That's why they wanted to come to Camp Slither. The wild legends of man-eating snakes and disappearing campers are hisss-terical! But Camp Slither has a cold-blooded secret... Somebody has unleashed a hungry horde of slithery snakes! Can Boone and Heather survive long enough to accept their invitation to HorrorLand? But only if they figure out why Camp Slither is crawling with trouble. Jilly and her twin brother, Jackson, are startled when they suddenly discover they can read each other's thoughts. They can read other people's thoughts, too! Their strange new powers are exciting... But soon they discover that somebody else knows their secret. Somebody who wil stop at nothing to control their powers.. The Streets of Panic Park 13. When the Ghost Dog Howls 14. Little Shop of Hamsters 15. Scream Street Collection 13 Books Set.
In Scream Street, Luke and his parents discover a nightmarish world of the undead. Luke soon makes friends with vampire Resus Negative and mummy Cleo Farr, but he remains determined to take his terrified parents home. After liberating the powerful book Tales of Scream Street from his new landlord, Otto Sneer, Luke learns that the founding fathers of the community each left behind a powerful relic. Collecting together all six is his only hope of opening a doorway out of the street, so with the help of Resus and Cleo he sets out to find the first one, the vampires fang. But with Otto Sneer determined to thwart him at every turn, will Luke even get past the first hurdle alive?
In Scream Street, discarded blood from cuts, grazes and nosebleeds is filtered out of the sewerage system and channelled to the vampire residents via taps in their kitchens. In an underhand attempt to force Luke to return Samuel Skipstones powerful Tales of Scream Street, Sir Otto Sneer cuts off the blood supply to the house of Lukes best friend, Resus Negative. Desperate for blood, Alston Negative, Resuss father, enrages a group of sewer rats, inadvertently creating a swarm of vampire rodents which rise up out of the sewers to attack the residents of the street.
Luke, Resus and Cleo must save Scream Street from the rats while searching for the second of the founding fathers relics, a vial of witch's blood and without being turned into vampires themselves. Scream Street has been shrouded in constant night for as long as the residents can remember, but when the streets become covered with millions of crawling spiders, suffocating everything in their path with their thick webbing, the residents realize theyve had it easy up until now! Meanwhile Luke and his friends are searching for the third relic of the founding fathers, the heart of an ancient mummy, in their quest to return Lukes parents to the real world. Matters are further complicated when Cleos mother turns up out of the blue, having been supposedly lost at sea and missing for many centuries. Luke becomes suspicious, wondering if there's more to Cleos mummy than meets the eye but can he persuade Cleo and her father to believe him before its too late?
Party-loving zombies Doug, Turf and Berry are psyched, man! The underworlds greatest rock festival, Deadstock, is taking place in Scream Street and the community is soon swamped with rotting revellers from across the globe. It appears that Luke, Resus and Cleo will have a soundtrack to their search for the fourth relic a slice of flesh from a long-vanished zombie. But Sir Otto Sneer has other plans. After an unsuccessful attempt to pull the plug on the concert, he banishes the headlining band, Brain Drain, to the evil Underlands. Now the race is on for Luke and his friends to bring them back before it's too late.. The Headless Horseman, the world's most famous ghost, makes a personal appearance at Everwell's Emporium to launch his new perfume,'Decapitation pour l'Homme'. His overbearing gargoyle manager, however, is not impressed when the celebrity's head is stolen during the event! Eefa Everwell recruits Luke, Resus and Cleo to help with the search, but Luke is on a head hunt of his own: for the skull left behind by the first skeleton to live in Scream Street. Once again Sir Otto Sneer is determined to thwart the trio, and when he launches his own Frankenstein-esque monster to terrorize them into handing over the relics of the first four founding fathers, it's all they can do to keep their own heads.. Luke is now just one relic away from opening the doorway back to his own world and taking his parents from the terrors of Scream Street - but the final search will plunge him into his most dangerous adventure yet. With the help of Resus and Cleo, Luke hunts for the claw of a werewolf and learns something entirely unexpected about Samuel Skipstone, the author who has helped them so much on their quest. The trio are thus forced into a difficult decision, not helped by the presence of a witch convention in Scream Street which is causing havoc in the neighbourhood. The sixth and final relic is almost in Luke's grasp, but will it ever be his... Did Luke, Resus and Cleo fail in their quest? Are Luke and his parents trapped in Scream Street for ever?
And how can there be a normal invasion? Now that Luke, Resus and Cleo have worked out how to rid Scream Street of invading normals, they're keen to begin their new quest right away.
First stop, Count Negatov's castle! As the trio make their way through the bleak, murky wilds of Transylvania, it seems that this adventure will be dull, but easy. Until, that is, they're kidnapped by trolls. When Luke and Resus wake up to discover that Cleo has been kidnapped, the intrepid pair follow a perplexing trail into a strange new GHOUL community. Here they stumble upon a terrible plot involving the much feared Nightwatchman, who feeds on children's dreams in order to satisfy his own evil thirst for power.
Can the boys continue the quest and return the second relic, while rescuing Cleo from her greatest nightmare? This time Luke, Resus and Cleo find themselves in Egypt, on the hunt for their old friend Heru, to return his heart. However, what they hadn't reckoned on was their old enemies the goblins getting there first! Intent on stealing the priceless treasure from the ancient mummys resting place, the goblins are wreaking havoc and if Luke and his friends dont stop them, the mighty curse of the pharaohs will be unleashed. Given that rock zombie Vein is now living in deepest darkest Tibet, the quest to return his tongue proves surprisingly easy for Luke, Resus and Cleo. What the trio hadn't bargained on, however, was a ravenous baby yeti stowed away in Resus's cloak and following them home! When the yeti's angry mother appears in Scream Street in search of her missing offspring, things really start to get hairy. Meanwhile, the clock is ticking.. Just as Luke, Resus and Cleo are working out how to return the fifth relic, a whole new problem presents itself: Eefa Everwell's toddler niece, Poppy, has been replaced by a changeling! And the real Poppy is being held captive in the fairy realm by the evil Crimson Queen... Eefa and her sister are inconsolable, and the three friends vow to rescue the child and bring her safely back to Scream Street. However, the fairy realm holds plenty of surprises most of them bad. And when Resus becomes tempted to change sides, things get a whole lot more complicated.. Having been banished to the Underlands by Acrid Belcher, the evil head of G. Luke, Resus and Cleo begin their thirteenth adventure fighting for their very existence. And life doesn't get much easier from there - the quest to return the sixth and final relic will take them to a dragon's lair in China, after which they must overcome the not-so-small problem of a deluded slime beast hell bent on creating an evil new world order. Once again it's up to the trio to save Scream Street - but will they fall at the final hurdle? We are dedicated to ensuring the highest possible quality service to our customers. You can send us a message by using the "Questions and answers" section towards the bottom of the page. The item "Goosebumps HorrorLand Series & Scream Street 31 Books Box Gift Set Collection" is in sale since Tuesday, October 11, 2016. This item is in the category "Books, Comics & Magazines\Children's & Young Adults\Fiction". The seller is "books4peopleuk" and is located in Leicester. This item can be shipped to United Kingdom, Ireland.
Author: Various
Language: English
Format: Paperback
Subject: Fiction
Age: Ages 9 - 12
Series: Goosebumps/Scream Street
Subject 2: Mysteries