HBRS 20 Minute Manager Series Collection 10 Books Box Set Meeting Managing Time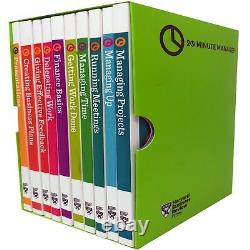 HBR's 20 Minute Manager Box Set 10 Books Collection. Managing Projects, Managing Up, Running Meetings, Managing Time, Getting Work Done, Finance Basics, Delegating Work, Giving Effective Feedback, Creating Business Plans, Presentations. Get up to speed fast on the most essential business skills with HBRs 20-Minute Manager series.
Whether you need a crash course or a brief refresher, each book in the series is a concise, practical primer that will help you brush up on a key management topic. Advice you can quickly read and apply, for ambitious professionals and aspiring executives from the most trusted source in business. You have been asked to manage a key project or perhaps you have volunteered for an assignment that could advance your career.
So how do you make sure the project succeeds? Managing Projects walks you quickly through the basics, including: Drawing up a realistic schedule and project plan, Monitoring key tasks and benchmarks, Communicating with stakeholders and Bringing the project to a close. Your boss plays an important role in your career.
So how do you navigate this delicate, significant professional relationship without playing political games or compromising your character? Managing Up offers concise, expert tips on: Understanding your managers priorities and pressures, Setting a positive tone for the relationship, Managing expectations and egos, Earning trust and respect.
Whether you are new to running meetings or a seasoned executive with no time to waste, leading effective, and even pleasant meetings is a must. Running Meetings guides you through the basics of: Crafting a useful agenda, Inviting the right team members, Making sure everyones voice is heard while avoiding conflict, Capturing decisions, ideas, and follow-up tasks. Does it seem like you never have enough time to get everything done?
Keeping on top of your tasks, deadlines, and work schedule can be daunting. Managing Time quickly walks you through the basics. You will learn to: Assess how you spend your time now, Prioritize your tasks, Plan the right time to work on each one, Avoid procrastination and interruptions. Overwhelmed by the sheer volume of work you need to accomplish?
Being pulled in different directions by competing priorities? Getting Work Done runs you through the basics of being more productive at work. You will learn to: Align your schedule with your priorities, Focus your attention and avoid distractions, Create effective daily routines, Set boundaries and learn to say no. The numbers and the jargon can feel overwhelming, but you have to understand them to manage effectively.
Finance Basics explains the fundamentals simply and quickly, introducing you to key terms and concepts such as: How to navigate financial statements, How to weigh costs and benefits, Whats involved in budgeting and forecasting, How to gauge a companys financial health. You know you need to delegate some of your work so that you have time to focus on the things that require your expertise. But it's not easy to do. Delegating Work quickly walks you through the fundamentals of: Establishing a productive environment, Assigning the right work to the right people, Conducting an effective hand off meeting, Monitoring without micromanaging. Whether you are dealing with a problem employee or praising the good work of a colleague, you need to communicate in a way that promotes positive change in others.
Giving Effective Feedback quickly walks you through the basics of delivering feedback that gets results, including: Choosing the right time to talk, Engaging in productive dialogue, Helping both star and struggling performers, Developing a plan for effective follow-up. A well crafted business plan generates enthusiasm for your idea and boosts your odds of success whether you are proposing a new initiative within your organization or starting an entirely new company. Creating Business Plans quickly walks you through the basics. You will learn to: Present your idea clearly, Develop sound financial plans, Project risks and rewards, Anticipate and address your audiences concerns. Feeling stressed about your upcoming presentation? Whether you are nervous about how you will organize your thoughts or how you will articulate them on the big day, Presentations provides the quick guidelines and expert tips you need to: Craft your message, Prepare and rehearse effectively, Engage your audience, Manage Q&A sessions. We are dedicated to ensuring the highest possible quality service to our customers.
You can send us a message by using the "Questions and answers" section towards the bottom of the page. This item is in the category "Books, Comics & Magazines\Books". The seller is "books4peopleuk" and is located in this country: GB.
This item can be shipped to United Kingdom.
Features: Collection/Box Set
Format: Paperback
Subject: Fiction
Topic: Books
Book Series: Manager Series
Country/Region of Manufacture: United Kingdom
Ex Libris: No
Weight: 1.800
Language: English
Subject 2: Management
Book Title: HBRS 20 Minute Manager Series
Intended Audience: Adults
Author: Harvard Business Review
Publisher: HBR
Inscribed: No
Signed: No
Genre: Management
ISBN: 9789526533162