Holly Webb Animal Stories 30 Book Set Collection Puppy and Kitten Rescue Series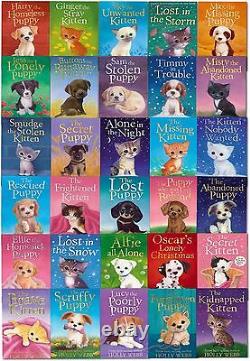 Holly Webb 30 books Collection Puppy and kitten Children's Gift Set Sophy William. Puppy and kitten Complete Collection Holly Webb 30 Books Set. The Forgotten Puppy, The Secret Puppy, Smudge the Stolen Kitten, Lucy The Poorly Puppy, Ellie The Homesick Puppy, The Puppy Who was left behind, The Kitten Nobody Wanted, The Missing Kitten, The Rescued Puppy, The Lost puppy, Alone In the Night, The Frightened Kitten, The Abandoned Puppy, Harry the Homeless Puppy, Timmy in Trouble, Max the Missing Puppy, Sam the Stolen Puppy, Buttons the Runaway Puppy, Harry the Homeless Puppy, Misty the Abandoned Kitten, Lost in the Storm, Ginger the Stray Kitten, Sky the Unwanted Kitten, Jess The Lonely Puppy, The Scruffy Puppy, The Kidnapped Kitten. Emi looks forward to her weekend visits to her dad's, but she's sad that her Shiba Inu puppy, Rina, can't come too. During the school holidays, Emi visits her dad for four whole days, and Rina is restless - what if Emi doesn't come back?
Determined to find her owner, Rina escapes and heads to the last place she saw Emi - the railway station... A heart-warming read, perfect for fans of Magic Animal Friends and Animal Ark. Harry the Homeless Puppy Grace can't have a puppy of her own, but she loves walking the dogs at the local animal shelter; her favourite is Harry, a lively Jack Russell puppy. Harry loves going for walks with Grace, and soon the two are best friends.
But then Harry is re-homed and Grace is heartbroken. Grace knows she should be pleased that Harry has a home of his own, but she misses him terribly...
And poor Harry doesn't understand at all - where has his beloved Grace gone? Ellie the Homesick Puppy Megan is really excited about moving.
She can't wait to take her lively Golden Labrador puppy, Ellie, for walks in the countryside near their new house. But Mum and Dad are worried that Ellie is getting in the way, so Gran offers to have her to stay during the move. Megan and Ellie have never been separated before. Megan misses her puppy so much - and Ellie will do anything to get home to Megan... The Rescued Puppy Twins Georgia and Adam can't wait to go on their holiday to Cornwall - especially as it's the first time they're taking their new puppy, Lucky, with them.
Lucky loves the seaside - chasing the waves, digging in the sand and the long cliff-top walks. One morning, unable to wait for Georgia and Adam, he sets off on his own. Unaware of the dangers, Lucky falls down a cliff and finds himself stranded, alone and hungry, and in need of rescue. Meanwhile, the search is on to find Lucky, but no one seems to have seen the little dog. How will Georgia and Adam ever find Lucky?
The Frightened Kitten When Maddy's best friend moves away, Maddy feels like she'll never be able to replace her. To cheer her up, her parents get her a kitten - a gorgeous tortoiseshell who she calls Biscuit.
Biscuit quickly settles into her new home, and can't wait to go out for the first time and explore. But little does she know that a neighbour's two big tom cats see the garden as their territory. Together, the mean cats do their best to scare off the new arrival, and soon poor Biscuit is frightened to go out at all and spends most of her time hidden away. Will Maddy ever find a way to help her beloved kitten? Alone in the Night Jasmine is thrilled when she gets to catsit for her neighbours while they're away on holiday for Christmas.
She adores looking after the beautiful Star and only wishes she could keep her forever! Star loves playing with Jasmine, and soon the pair are inseparable. But what Jasmine doesn't know is that Star has a secret. Although it is cold and dark outside, the time has come for Star to leave Jasmine and her warm, safe home, and find a place to hide. The Abandoned Puppy is the 23rd book in Holly Webb's Animal Stories series, a must for any puppy loving, Holly Webb fan.
Zoe is thrilled to be helping out at her Auntie Jo's animal shelter over the Easter holidays. But she doesn't expect to come across a box on the steps of the shelter containing three tiny abandoned puppies. It's touch and go for the littlest pup, whom Zoe names Cookie. Over the next few weeks, Zoe takes special care of Cookie and a close bond is formed between the two of them. But how will Zoe cope when it comes for the puppies to be rehomed? From stolen kittens to lost puppies and runaways, Holly's tales of puppies and kittens have won her legions of fans.
The perfect series for little girls. The Puppy Who Was Left Behind is the 25th book in Holly Webb's Animal Stories series, a must for any puppy loving, Holly Webb fan.
Anna and her new puppy, Fred, go to spend time on her grandparents' canal boat during the summer holidays. Anna loves the boat, and so does Fred, but her grandparents have a black Labrador, Sunny, and he's very grumpy with Fred. Fred is upset, and scared of Sunny, and he escapes and runs away to hide in the woods. With the boat needing to move on that evening, the race is on to find the lost puppy before he gets left behind... The Missing Kitten is the 24th book in Holly Webb's Animal Stories series, a must for any kitten loving, Holly Webb fan.
Scarlett is excited to be moving to the countryside, especially as it means she will finally get a pet. She chooses Bootle, a ginger kitten with four white socks, and the two of them become inseparable.
Then Scarlett has to start at her new school... Bootle tries following Scarlett to school each day. But when there's a downpour, he gets lost. How will Scarlett ever be able to find him when she has no idea where he could be?
The Secret Puppy When Daisy arrives at the farm campsite where her family are spending her summer holiday, she knows she s going to have the best time ever. Especially when she finds out the farm dog has just had puppies! Daisy can t help falling in love with Barney, the smallest of the litter of German Shepherd pups.
Barney takes to the friendly new girl who sneaks her food and smuggles him into her sleeping bag at night, and soon the pair are inseparable. Daisy longs to take Barney home with her.
Will she find a way to persuade Mum and Dad to let her keep him? The Lost Puppy Ruby loves playing with Toby and can't wait to take him for proper walks - they'll have such fun! But on an outing to the woods, Toby's curious nature gets the better of him and he runs off in search of adventure.
Soon the puppy is lost in the woods, frightened and all alone. Will he ever be reunited with his beloved best friend Ruby? Lucy the Poorly Puppy Lauren's dog Bella is about to have puppies and she can't wait - even though Lauren knows that she mustn't get too attached because she won't be able to keep them. But when the puppies are born, one is so tiny Mum and Dad aren't sure it will pull through. Lauren helps her mum to hand-rear the littlest puppy, who she calls Lucy, to great success.
But what will happen when the time comes for Lauren to give Lucy up? The Kitten Nobody Wanted Mia still hasn't got over her cat's death - she had Tibby for as long as she can remember and can't ever imagine having another pet. But one day, just before Christmas, she finds out that her friend's cat has had kittens. Over the holidays she goes round to play with them. Mia's parents think she has coped with Tibby's loss, and surprise her by saying she can have the last kitten, Whiskers. Mia's not sure she's ready yet - although she loves Whiskers, she feels guilty about Tibby. Can Mia bring herself to keep the new kitten? Smudge the Stolen Kitten Olivia's new kitten is stolen by her brother's naughty friend. But he loses her before he can give her back Timmy in Trouble Timmy the spaniel puppy has a wonderful new home. Not only does he have a family who adore him, but there is Moggy, a large ginger cat, for him to play with. Sadly, Moggy doesn't warm to Timmy, and, jealous of the new arrival, she decides to run away. How can Timmy persuade her to return?
Max the Missing Puppy Molly is over the moon when she's given Max, a gorgeous Old English Sheepdog puppy, and soon the two are inseparable. Max pines for Molly when she's at school, and longs for her to come home and play, so when he spies an open window one day he sets off to find her. But the world is a scary place for a puppy on his own and soon Max is alone and in danger.
Will he ever be reunited with Molly... Sam the Stolen Puppy Sam the gorgeous golden Labrador puppy is the best Christmas present Emily has ever had.
When he is stolen, a heartbroken Emily is hot on the trail of the thieves - will she ever find her beloved puppy? Buttons the Runaway Puppy Sophie often sees old Mr Jenkins walking his Labrador puppy, Buttons, and wishes she could have a dog of her own just like her. Buttons loves the outdoors and is always running off even though she knows she shouldn't. Then one day, Sophie sees Buttons climb out of the window. She thinks she's running away again, but Buttons isn't playing around this time - something at home is very wrong, but how can she let Sophie know...
But then Harry is rehomed and Grace is heartbroken. Misty the Abandoned Kitten Amy has always loved cats and is thrilled when she spots a tiny little black kitten in her garden. Although she has no collar, she looks too well cared for to be a stray. Misty starts to spend more and more time with Amy, but just as she starts to think of the kitten as hers, the real owners show up.
Lost in the Storm The sequel to "Lost in the Snow". Ella loves her kitten, Fluff, and worries about her going missing again. But one day when Fluff is playing outside, a blizzard sets in and she loses her way. Will Ella ever be reunited with her kitten?
Ginger the Stray Kitten Rosie loves going home with Gran after school; Gran lives near a farm and Rosie can visit the feral cats that lives there. Suddenly the world is a scary place... Sky the Unwanted Kitten Olivia's very unhappy about moving house and leaving all her friends behind, not to mention next door's two lovely cats. But her parents have a surprise that they hope will cheer her up... The kitten is adorable with huge blue eyes but Olivia insists she doesn't want a cat and Sky is left all alone...
Surely Olivia won't be able to resist for long? Jess The Lonely Puppy When Chloe's big brother Will breaks his leg, he's stuck in hospital for weeks. Mum and Dad are frantic, and there's no one to look after Will's Border Collie puppy, Jess. Jess is miserable and lonely, and so is Chloe. But Chloe doesn't really like dogs, and Jess only wants Will.
Can the two of them ever be friends? The Kidnapped Kitten Tia is thrilled when she gets a beautiful pedigree Bengal kitten, who she names Milly. Bengal kittens are cute and clever, but can be naughty and Milly is soon in all sorts of trouble - getting shut in cupboards, climbing shelves and even falling into the neighbour's pond. When Tia hears that someone is stealing pedigree cats in the neighbourhood she is very worried and decides to keep her adventurous pet kitten indoors. But Milly manages to escape and the next day she still hasn't come back.
Tia is terrified that her missing kitten has been stolen by the cat thieves. What if she never sees poor Milly again? The Kidnapped Kitten is the 26th book in the Animal Stories series, a must for animal lovers aged six and up. Bella instantly falls in love with her scruffy puppy Sid when she sees him at the animal shelter. She gets her family to agree that he's the perfect pet for them and she cannot wait to bring him home!
But one person is not too impressed with Sid - Bella's friend Megan, who is getting her own pedigree pup. Megan is pretty snooty about Bella's beloved mongrel pet, and she begins to wonder if she's that good a friend after all. Bella decides to enter Sid into a dog show, so she can prove for once and for all that all dogs are brilliant, no matter where they come from! The Scruffy Puppy is the 27th book in Holly Webb's Animal Stories series, a must for animal loving girls and boys aged six to eight years. We are dedicated to ensuring the highest possible quality service to our customers.
You can send us a message by using the "Questions and answers" section towards the bottom of the page. The item "Holly Webb Animal Stories 30 Book Set Collection Puppy and Kitten Rescue Series" is in sale since Tuesday, June 4, 2013. This item is in the category "Books, Comics & Magazines\Children's & Young Adults\Fiction".
The seller is "books4peopleuk" and is located in Leicester. This item can be shipped to United Kingdom, Ireland.
Popular Authors/ Series: Holly Webb Stripes
Country/Region of Manufacture: United Kingdom
Topic: Animals
Gender: Boy's/Girl's Interest
Subject: Pet Rescue and Caring
Series: Holly Webb Animal Stories
Subject 2: Animal/Pet
Format: Paperback
Type: Short Stories
Title: Holly Webb Animal Stories
Author: Holly webb
Publication Year: 2019
Language: English
Publisher: Stripes
Genre: Humour
Age Level: Ages 4-8