James Patterson Private Series 1-15 Books Collection Set-Young Adult Paperback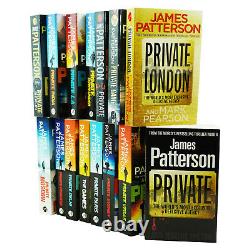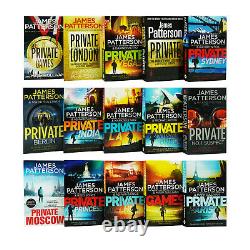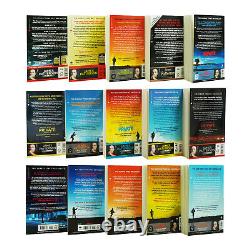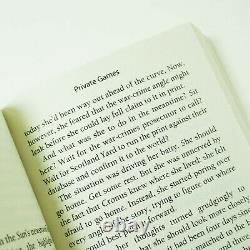 James Patterson Private Series 1-15 Books Collection Set. Former US Marine Jack Morgan runs Private, a renowned investigation company with branches around the globe. It is where you go when you need maximum force and maximum discretion. The secrets of the most influential men and women on the planet come to Jack daily - and his staff of investigators use the world's most advanced forensic tools to make and break their cases. Jack is already deep into the investigation of a multimillion-dollar gambling scandal and the unsolved slayings of eighteen schoolgirls when he learns of a horrific murder close to home: his best friend's wife, Jack's former lover, has been killed. It nearly pushes him over the edge. Instead, Jack pushes back and devotes all of Private's resources to tracking down her killer. And Jack doesn't have to play by the rules. For Hannah Shapiro, a young American student, the nightmare began eight years ago in Los Angeles, when the owner of Private-the world's most exclusive detective agency-saved her from a horrific death. Now, after eight years, the terror follows her to London. The only man who can help is former Royal Military Police Sergeant Dan Carter, head of Private London.
In London, young women are being abducted and their bodies found mutilated in a grotesque, mysterious way. Carter's ex-wife, DI Kirsty Webb, leads the investigation into these brutal murders, which may somehow be linked to Hannah Shapiro. Working together, the two investigators are caught in a desperate race against the odds.
Private may be the most advanced detection agency in the world. But can they catch a predator who rivals London's most elusive killer ever? When Sir Denton Marshall, a key member of the London Olympic organising committee, is found brutally murdered, Peter Knight, head of Private London, is called to the scene. Private are working with the organising committee on security for the Games, so Denton Marshall was a valuable client.
But there is a more personal link: Denton was also the fiancé of Knight's mother. Knight is devastated by Denton's murder, but it soon becomes clear that this is no isolated incident. The killer is targeting the Games itself, and the lives of everyone involved are under threat.
Since former US Marine Jack Morgan started Private, it has become the world s most successful detective agency. But when his former lover is found murdered in Jack s bed, Jack is instantly the number one suspect.
Mattie Engel is one of the rising stars at Private Berlin, and believes she's seen the worst of people in her previous life with the Berlin police force. That is until Chris, her colleague - and until recently, her fiancé - is found dead, brutally murdered in an old slaughterhouse outside the city. The slaughterhouse is filled with bodies. But just as Private begin their investigations, the building explodes, wiping out all evidence of the crimes, and nearly killing Mattie and her team. Mattie soon realises that a masked killer is picking off Chris's childhood friends, one by one, and destroying the trail. But who wants the past buried so badly? What is the truth about that slaughterhouse? And will Mattie become the killer's next victim? Craig Gisto, head of the latest branch of Private, is enjoying the glamorous launch party with his new team when their celebrations are interrupted by the bloodied arrival of a boy with his eyes gouged out. The boy is the kidnapped son of one of Australia's richest men - but investigating his death isn't their only pressing case.
The rock star Micky Stevens is convinced someone's trying to kill him, and believes Private are the only ones who can help. As if that wasn't enough, someone is murdering the wealthy wives of the Eastern Suburbs, in the most brutal way imaginable. And if they don't catch the killer soon, the next victim could be someone close to Private. Jack Morgan is having a bad week. His twin brother is up on a murder charge and determined to frame him for the crime, and one of Jack s clients has just called to report the burnt bodies of four surfers on his beach.
But what seems like a random mugging gone wrong soon reveals something far worse a killer calling themselves No Prisoners is holding the city to ransom. And there s more bad news: Hollywood s golden couple, Thom and Jennifer Harlow, have been kidnapped, along with their adopted children. It looks like the whole world is about to discover whether Private are really as good as they say they are.. When Santosh Wagh isn t struggling out of a bottle of whisky he s head of Private India, the Mumbai branch of the world s finest PI agency.
In a city of over thirteen million he has his work cut out at the best of times. But now someone is killing women seemingly unconnected women murdered in a chilling ritual, with strange objects placed carefully at their death scenes.
As Santosh and his team race to find the killer, an even greater danger faces Private India a danger that could threaten the lives of thousands of innocent Mumbai citizens.. Jack Morgan, head of Private Investigations, the global PI agency of the rich and famous, is being pushed to the limit. His car has been firebombed, his ex is dating someone else, and his twin brother is still out to destroy him. But Private doesn't rest, and nor do its clients: not the LAPD who need Private's help catching two scumbags with diplomatic immunity, and not the client who has just confessed to murdering his wife.
Add to that Jack's best friend being held on a trumped-up charge that could see him locked away for a very long time, and it seems like all bets are off. Craig Gisto has promised Eliza Moss that his elite team at Private Sydney will investigate the disappearance of her father. After all, as CEO of a high-profile research company, Eric Moss shouldn't be difficult to find.
Except it's not just the man who's gone missing. Despite the most advanced technology at their disposal, they find every trace of him has vanished too. And they aren't the only ones on the hunt. Powerful figures want Moss to stay'lost', while others just as ruthlessly want him found.
Meanwhile, a routine background check becomes a frantic race to find a stolen baby and catch a brutal killer - a killer Private may well have sent straight to the victim's door. When Jack Morgan stops by Private's Paris office, he envisions a quick hello during an otherwise relaxing trip filled with fine food and sightseeing. But Jack is quickly pressed into duty after a call from one of his most important clients asking Private to track down his young granddaughter who is on the run from a brutal drug dealer.
As Jack scours the city, several members of Paris's cultural elite are found dead - murdered in shocking, symbolic fashion - and the French police need Private's help. Two years ago, Jack Morgan was in Rio consulting on security for the World Cup.
The tournament went without a hitch. Until a man died in one of the executive hospitality suites during the final, and the autopsy showed the cause to be a rare and deadly virus. The story was kept from the media to avoid causing panic, but Jack feared that the death was no freak occurrence. Now the eyes of the world are once again turned towards Rio for the Olympic Games, and Jack is back in Brazil's beautiful capital. It's not long before he uncovers terrifying evidence that someone has set in motion a catastrophic plan.
The death at the World Cup was just a warning. The Olympic Games could be the setting for the worst atrocity the world has ever seen.
Santosh Wagh quit his job as head of Private India after harrowing events in Mumbai almost got him killed. But Jack Morgan, global head of the world's finest investigation agency, needs him back. Jack is setting up a new office in Delhi, and Santosh is the only person he can trust. Still battling his demons, Santosh accepts, and it's not long before the agency takes on a case that could make or break them. Plastic barrels containing dissolved human remains have been found in the basement of a house in an upmarket area of South Delhi. But this isn't just any house, this property belongs to the state government. With the crime scene in lockdown and information suppressed by the authorities, delving too deep could make Santosh a target to be eliminated. When the head of the world's foremost investigation agency is invited to meet Princess Caroline, third in line to the British throne, he boards his Gulfstream jet and flies straight to London. The Princess needs Morgan's skills, and his discretion. Sophie Edwards, a close friend of the royal, has gone missing. She must be found before the media become aware of it. Morgan knows there is more to this case than he is being told.
But before the bell rings, a bullet rips through the air and finds its mark. In the aftermath of the murder, the victim's wife hires Jack to find the killer.
As the head of Private, Jack has at his disposal the world's largest investigation agency. What he discovers shakes him to his core. Jack identifies another murder in Moscow that appears to be linked. So he heads to Russia, and begins to uncover a conspiracy that could have global consequence.
This item is in the category "Books, Comics & Magazines\Books". The seller is "bangzo_bookstore" and is located in this country: GB. This item can be shipped worldwide.
Book Title: James Patterson Private Series 1-15 Books
Topic: Books
Format: Paperback
Publication Year: 2021
Publisher: Arrow Books
Features: Collection Set
Author: James Patterson
Book Series: James Patterson Private Series
Language: English
Intended Audience: Young Adults
ISBN: 9789124176273