Julia Donaldson Picture Book Collection 10 Books Set The Gruffalo Child Cave Bab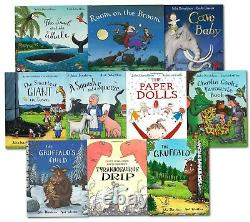 Gruffalo Collection Julia Donaldson 10 Books Set School Picture Flats in a Bag. The Snail and the Whale. A Squash and A Squeeze. One little snail longs to see the world and hitches a lift on the tail of an enormous whale. Together they go on an amazing journey, past icebergs and volcanoes, sharks and penguins, and the little snail feels so small in the vastness of the world.
But when disaster strikes and the whale is beached in a bay, it's the tiny snail's big plan that saves the day! The witch and her cat fly happily over forests, rivers and mountains on their broomstick until a stormy wind blows away the witch's hat, bow and wand. Luckily, they are retrieved by a dog, a bird and a frog, who are all keen for a ride on the broom.
It's a case of the more, the merrier, but the broomstick isn't used to such a heavy load and it's not long before. And with a greedy dragon looking for a snack, the witch's animal pals better think fast!
The Gruffalo said that no gruffalo should. Ever set foot in the deep dark wood.
But one wild and windy night the Gruffalo's child disobeys her father's warnings and ventures out into the snow. After all, the Big Bad Mouse doesn't really exist. Is the number one bestselling, much-loved sequel to the worldwide picture book phenomenon that is. A mouse took a stroll through the deep dark wood. A fox saw the mouse and the mouse looked good.
Walk further into the deep dark wood, and discover what happens when a quick-witted mouse comes face to face with an owl, a snake. Julia Donaldson and Axel Scheffler's.
This award-winning rhyming story of a mouse and a monster has found its way into the hearts and bedtimes of an entire generation of children and will undoubtedly continue to enchant children for years and years to come. No home should be without. A string of paper dolls go on a fantastical adventure through the house and out into the garden. They soon escape the clutches of the toy dinosaur and the snapping jaws of the oven-glove crocodile, but then a very real pair of scissors threatens. Everyone knows that tyrannosauruses are big and scary, so when a placid duckbill dinosaur's egg ends up in the wrong nest, confusion is sure to ensue!
When the baby dinosaur hatches out, he's so out of place that his grisly big sisters call him Tyrannosaurus Drip. Poor little Drip: all he wants is a quiet life munching on water weed. A hairy mammoth takes a cheeky little baby on a thrilling ride through a moonlit landscape populated by a sabre-toothed tiger, a leaping hare, a laughing hyena and even, just maybe, by a big brown bear.
But where are they going? And what has it to do with the baby's scribblings on the cave wall? I've lost my mum! Where is Monkey's mummy?
It's not too much fun being lost in the jungle, and little monkey wants his mum. Kindly butterfly is keen to help, but they don't seem to be having much luck and keep finding the wrong animals!
It's just as well that he knows exactly where mum is, and she's waiting with a well-deserved cuddle. Is a clever, funny and charming tale from the unparalleled picture book partnership of Julia Donaldson and Axel Scheffler, creators of. This edition features the classic story with a stunning, redesigned cover and beautiful finish, making it a must-have addition to the bookshelves of all Donaldson and Scheffler fans big and small! Wise old man, won't you help me, please? My house is a squash and squeeze.
Visit the farm in the brilliantly funny A Squash and a Squeeze, the first ever picture book written and illustrated by the unparalleled picture book partnership of Julia Donaldson and Axel Scheffler, creators of The Gruffalo. A little old lady lives all by herself in her house but she's not happy - it's just too small, even for one. The wise old man knows: bring in a flappy, scratchy, greedy, noisy crowd of farmyard animals. The Troll longs for a goat - but has to make do with fish for supper instead. Meanwhile, Hank Chief and his pirate crew are digging for treasure - but it seems they've sailed to the wrong island.
We are dedicated to ensuring the highest possible quality service to our customers. You can send us a message by using the "Questions and answers" section towards the bottom of the page. The item "Julia Donaldson Picture Book Collection 10 Books Set The Gruffalo Child Cave Bab" is in sale since Tuesday, May 21, 2019.
This item is in the category "Books, Comics & Magazines\Books". The seller is "books4peopleuk" and is located in Leicester. This item can be shipped to United Kingdom.
Subject: Early Readers
Subjects: Children's Books
Publisher: Pan Macmillan
Series: Julia Donaldson
Book Title: What The Ladybird Heard, The Gruffalo
Special Attributes: Illustrated
Publication Year: 2019
Type: Picture Book
Format: Paperback
Language: English
Author: Julia Donaldson
Genre: Fantasy
Age Level: Under 2 Years
Topic: Animals