Lee Child Collection Jack Reacher Series 19 Books Set Pack Personal Brand NEW PB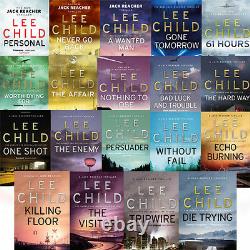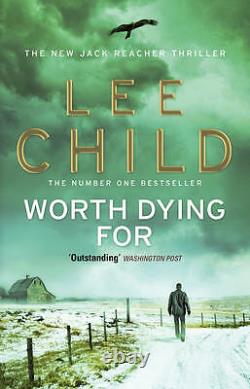 By Lee Child - One Shot. Once a go-to hard man in the US military police, now he's a drifter of no fixed abode. But the army tracks him down.
Because someone has taken a long-range shot at the French president. Only one man could have done it. And Reacher is the one man who can find him. This new heartstopping, nailbiting book in Lee Child's number-one bestselling series takes Reacher across the Atlantic to Paris - and then to London. The stakes have never been higher - because this time, it's personal. After an epic and interrupted journey all the way from the snows of South Dakota, Jack Reacher has finally made it to Virginia. His destination: a sturdy stone building a short bus ride from Washington D. The headquarters of his old unit, the 110th MP. It was the closest thing to a home he ever had.
He wants to meet the new commanding officer, Major Susan Turner. But the officer sitting behind Reacher's old desk isn't a woman. Why is Susan Turner not there?
Nebraska - and Jack Reacher, huge, hulking and with a freshly busted nose, is still trying to hitch a ride east to Virginia. He's picked up by three strangers - two men and a woman. Immediately he knows they're all lying about something - and then they run into a police roadblock on the highway.
Because the three are innocent? Or because the three are now four? For elite military cop Jack Reacher, that somewhere was Carter Crossing, Mississippi, way back in 1997.
There's deadly trouble in the corn country of Nebraska... And Jack Reacher walks right into it. First he falls foul of a local clan that has terrified an entire county into submission. But it's the unsolved case of a missing child, already decades-old, that Reacher can't let go. A tour bus crashes in a savage snowstorm and lands Jack Reacher in the middle of a deadly confrontation.
In nearby Bolton, South Dakota, one brave woman is standing up for justice in a small town threatened by sinister forces. If she's going to live long enough to testify, she'll need help. Because a killer is coming to Bolton, a coldly proficient assassin who never misses. Suicide bombers are easy to spot. They give out all kinds of tell-tale signs.
Mostly because they're nervous. By definition they're all first-timers.
Riding the subway in New York at two o'clock in the morning, Reacher knows the twelve giveaway signs to look out for. Watching one of his fellow-passengers, he becomes sharply aware: one by one, she ticks off every bulletpoint on his list. Two lonely towns in Colorado: Hope and Despair. Between them, twelve miles of empty road. Jack Reacher never turns back.
It's not in his nature. All he wants is a cup of coffee. What he gets is big trouble.
So in Lee Child's electrifying new novel, Reacher-a man with no fear, no illusions, and nothing to lose-goes to war against a town that not only wants him gone, it wants him dead. You do not mess with the Special Investigators!
The events of 9/11 changed Jack Reacher's drifter life in a practical way. In addition to his folding toothbrush, he now needs to carry photo ID to get around. Yet he is still as close to untraceable as a human being in America can get. So when a member of his old Army unit manages to get a message to him, he knows it has to be deadly serious.
The Special Investigators always watched each other's backs. Now Reacher must put the old unit back together. Someone has killed one of them, and he can't let that go. In Lee Child's astonishing new thriller, ex-military cop Reacher sees more than most people would...
And because of that, he's thrust into an explosive situation that's about to blow up in his face. For the only way to find the truth - and save two innocent lives - is to do it the way Jack Reacher does it best: the hard way.. A lone gunman unleashes pandemonium when he shoots into a crowd of people in a public plaza in Indiana. Five people are killed in cold blood, shot through the head. But he leaves a perfect trail of evidence behind him, and soon the local police chief tracks him down.
After his arrest, the shooter's only words are,'Get Jack Reacher for me. What could possibly connect this psychopath and the wandering dropout ex army cop? New Year's Day, 1990.
The Berlin Wall is coming down. Soon America won't have any enemies left to fight. The army is under pressure to downsize. Jack Reacher is the duty Military Police officer on a base in North Carolina when he takes a call reporting a dead soldier. The body was found in a sleazy motel used by local hookers. That's Jack Reacher's standard operating procedure. And Francis Xavier Quinn was the worst guy he had ever met.
He had done truly unforgivable things. So Reacher was glad to know he was dead. Until the day he saw him, alive and well, riding in a limousine outside Boston's Symphony Hall. The secretive, closed organization that invites Jack Reacher in is the Secret Service, the organization that protects the Presidency.
Someone who was once close to Reacher's brother, needs help in her new job. Saving the Vice President of the United States from being assassinated.
Hitching rides is an unreliable mode of transport. In temperatures of over a hundred degrees, you're lucky if a driver will open the door of his airconditioned car long enough to let you slide you in. That's Jack Reacher's conclusion. He's adrift in the fearsome heat of a Texas summer, and he needs to keep moving through the wide open vastness, like a shark in the water. The last thing he's worried about is exactly who picks him up.
Sergeant Amy Callan and Lieutenant Caroline Cook have a lot in common. High-flying army career women, both are victims of sexual harassment from their superiors; both are forced to resign from the service.
Digging a swimming pool by hand in Key West, former military policeman Jack Reacher is not pleased when Costello, a private detective, comes nosing around asking questions about him. Determined to keep out of trouble, Reacher conceals his identity. But when he finds Costello dead with his fingertips sliced off, he realizes it is time to move on - and move on fast. Jack Reacher meets an attractive woman struggling along a Chicago street with her crutches. He stops to offer a steadying arm, and then they both turn to face twin handguns aimed at them.
Reacher and the woman - who claims to be an FBI agent - are kidnapped and taken 2000 miles across America. Early one morning Jack jumps off a bus in the middle of nowhere and walks 14 miles down an empty country road.
The minute he reaches the town of Margrave he is thrown into jail. As the only stranger in town, a local murder is blamed on him. However, it soon becomes clear that he is not the killer. This item is in the category "Books, Comics & Magazines\Books".
The seller is "bookwalla2011" and is located in this country: GB. This item can be shipped to United Kingdom.
Narrative Type: Non-Fiction
Gone Tomorrow: Nothing To Lose
Persuader: Without Fail
Bad Luck And Trouble: The Hard Way
By Lee Child - One Shot: The Enemy
Echo Burning: The Visitor
EAN: 3952107761902
Type: Almanac
Features: 1st Edition
Book Series: Jack Reacher
Intended Audience: Young Adults
Genre: Crime & Thriller
Personal: Never Go Back
Special Attributes: 1st Edition
Title: It
Series: Jack Reacher
A Wanted Man: The Affair
ISBN: 9786544560538
Worth Dying For: 61 Hours
Publication Year: 2011
Format: Paperback
Language: English
Book Title: Worth Dying For: (Jack Reacher 15)
Item Height: 198mm
Author: Lee Child
Publisher: Transworld LTD
Topic: Thriller, Crime, Books
Item Width: 127mm
Item Weight: 367g
Number of Pages: 528 Pages