Maisy Mouse First Experiences Collection 10 Books Set in a ZipLock Bag Gift Pack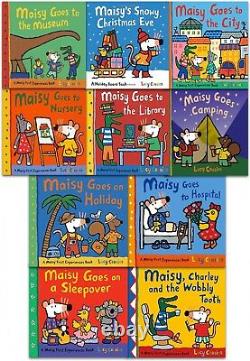 Maisy Mouse First Experiences 10 Books Collection Set in a Zip Lock Bag. Maisy Goes to Nursery, Maisy Goes to Hospital, Maisy Goes on Holiday, Maisy Christmas Eve, Maisy Goes to the City, Maisy Goes on a Sleepover, Maisy Goes Camping, Maisy Goes to Library, Maisy Charley and the Wobbly Tooth, Maisy Goes to the Museum. Description Maisy Goes to Nursery Maisy loves going to nursery. There's so much fun to be had, with all her friends and their teacher singing at Music Time, a nap a Quiet Time, listening at Book Time and then Play Time in the Garden.
Maisy Goes on Holiday Each of the First Experiences series describes a common first experience within Maisy's familar and comforting world, offering a reassuring picture of something that might be new or less familiar. In Maisy Goes on Holiday, Maisy enjoys packing her suitcase, then meeting Cyril at a busy station and catching a train to the seaside. They have lots of fun on the beach and at the caf, write postcards to their friends and finally sleep a peaceful night at their hotel (after bouncing on the beds, of course). Maisy Goes to Hospital Maisy has broken her leg playing on the trampoline, and now she's in hospital for the night.
At first it's a bit scary being all on her own, but she soon makes friends with Dotty in the next bed, and when Cyril and Tallulah visit the next day, Maisy begins to feel much better! Christmas Eve It's Christmas Eve, hooray! And Maisy has invited everyone to celebrate at her house. Cyril and Tallulah are decorating the tree and Charley is busy helping with the food, of course!
There's only one thing to do - go out into the snow and look for him! Goes to the City Maisy and Charley are visiting the city for the weekend how exciting!
They are met at the coach station by their friend Dotty, who shows them around... And everywhere is so crowded even the park. As Maisy and Charley explore, they go down into the underground, up an escalator in a department store where for a moment Maisy even gets a bit lost and see all the colourful sights in the wonderful bustling city.
Goes on a Sleepover Maisy has been invited to her very first sleepover at Tallulah's house how exciting! She must pack her sleeping bag, her pyjamas and oh! Let's not forget Panda! Lala is there, too, and together they dance, talk and play all day.
They even have a special sleepover supper! Maisy never knew sleepovers could be so fun! Goes Camping When Maisy sets off to go camping in the country, it only natural that all her friends come along, too. But they soon find that pitching a tent is not an easy thing to do.
Even if they do manage to keep the tent up, there the matter of fitting them all in Maisy, Charley, Cyril, Tallulah, and finally, the huge elephant, Eddie. Goes to the Library When Maisy goes to the library, it seems like the perfect place to read her story in peace.
But, Maisy finds the library full of noisy surprises. Maisy Charley and the Wobbly Tooth. Join Maisy the mouse, every toddler's best friend, for her first experience of going to the dentist.
When Charley gets a wobbly tooth, he goes a little "wobbly" himself. But then Maisy takes him to see Dr Biteright the really nice dentist and he soon gets a smile back on his face. Goes to the Museum There so much for Maisy and her friends to discover in the museum: collections of old toys, dinosaurs, cars, costumes even a large mammoth a favoriteof Eddie. Now for the food collection!
Says Charlie, as he leads them to his favorite room. We are dedicated to ensuring the highest possible quality service to our customers. You can send us a message by using the "Questions and answers" section towards the bottom of the page. The item "Maisy Mouse First Experiences Collection 10 Books Set in a ZipLock Bag Gift Pack" is in sale since Friday, April 17, 2015. This item is in the category "Books, Comics & Magazines\Children's & Young Adults\Non-Fiction".
The seller is "books4peopleuk" and is located in Leicester. This item can be shipped to United Kingdom, Ireland.
Gender: Boy's/Girl's Interest
Title/Series: Maisy Mouse First Experiences Collection
Weight: 1.500
Author: Lucy Cousins
Subject: Childrens Fiction
Age Level: Ages 4-8
Format: Paperback
Language: English