Marian Keyes 10 Books Collection Set NEW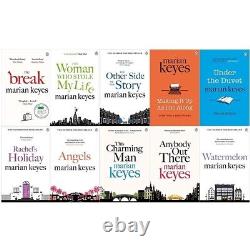 Marian Keyes Collection 10 Books Set. Amy's husband Hugh says he isn't leaving her. He still loves her, he's just taking a break - from their marriage, their children and, most of all, from their life together. 2 The Woman Who Stole My Life.
Ever wished you could trade your life in for a better one? One day, sitting in traffic, married Dublin mum Stella Sweeney attempts a good deed.
3 The Other Side of the Story. Sharkish literary agent Jojo has just made a very bad career move - she's slept with her married boss Mark. 4 Making It Up As I Go Along. From a guide to breaking up with your hairdresser to entering the fifties-zone, the joys of her nail varnish museum to singing her way through insomnia. Under the Duvet brings together Marian Keyes' unputdownable and utterly irresistible journalism and musings on life.
Rachel is living it up in New York City, spending her nights talking her way into glamorous parties before heading home in the early hours to her hot boyfriend Luke. Unlike the rest of her family, Maggie Walsh has always done everything right. Slick, handsome politician Paddy de Courcy is on the up. His party is set to do well in the elections and he's just announced his engagement to the beautiful Alicia.
Anna Walsh is covered in bandages and lying in her parents' Good Front Room. On the day she gives birth to her first child, Claire Walsh's husband James tells her he's been having an affair and now's the right time. Publisher: Penguin (31 May 2018).