Mr. Men My Complete Collection 48 Books Box Set Mr. Tickle, Mr. Lazy, Mr. Happy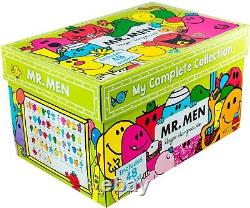 Men My Complete Collection 48 Books Box Set. Bump, Mr Snow, Mr Messy, Mr. Topsy Turvy, Mr Silly, Mr. Mr Tickle has extraordinarily long arms.
Follow Mr Tickle as he goes about his day tickling everybody from a teacher to the postman. Mr Greedy liked to eat. He was also very curious. So when he stumbled across a cave on a walk one day and starts to explore, what should he find but food?
But it's not his food.. Mr Happy was fat and round, and happy.
While on a walk one day he met Mr Miserable, who was never happy. Will Mr Happy get Mr Miserable to smile? Mr Nosey liked to know about everything that was going on. He was always poking his nose into other people's business.
Mr Nosey lived in a place called Tiddletown. When the people of Tiddletown decided that Mr Nosey was becoming much too nosey, they decide to teach him a lesson. Mr Sneeze lived in Coldland where everybody is cold and everybody sneezes. Then one day Mr Sneeze decided that he didn't want to sneeze anymore, so he left Coldland to find the sun. Will Mr Sneeze find sunny weather and stop sneezing?
Mr Bump cold not help having accidents. Will Mr Bump find a job he can do where won't be such a nuisance to everybody? On one particularly snowy Christmas Eve, Father Christmas was in trouble. And the trouble was that it had snowed so much that he was stuck.
This is the story about how Mr Snow saved Christmas and helped Father Christmas deliver all the presents on time. Mr Messy was the messiest person you've ever met in your whole life.
One day Mr Messy went for a walk in the woods behind his messy house with the messy garden to find Mr Neat and Mr Tidy who want to make Mr Messy clean! Mr Topsy Turvy was a funny sort of a fellow. Everything about him was either upside down, or inside out, or back to from - topsy turvy in fact. Now, this story is all about the time Mr Topsy Turvy came to the town where you and I live. What will Mr Topsy Turvy do in the town that's not so topsy turvy?
Mr Silly lives in Nonsenseland, which is a very funny place to live. Now this particular story is about the competition in Nonsenseland for the silliest idea of the year. It's called the Nonesense Cup. Will Mr Silly come up with the silliest idea this year? Mr Uppity was rude to anybody and everybody. So of course he had no friends at all.
This is the story of Mr Uppity and how Mr Uppity finish this story not quite so uppity as at the beginning of the story. When Mr Small wants to find a job, he goes to Mr Robinson to ask for his advice. What jobs will Mr Robinson suggest for Mr Small? This is a story about Mr Daydream.
It's also a story about a little boy named Jack who likes to daydream during history. Follow Mr Daydream as he takes Jack on exciting daydream adventures! Mr Forgetful can't remember anything. But what will happen when he's given an important message to deliver? Poor Mr Jelly was frightened of everything and anything.
Until one day, while on a walk, he meets a tramp who teaches him the secret to being brave. Mr Noisy was a very, very noisy person indeed.
But when Mrs Crumb and Mr Bacon have had enough of Mr Noisy's noisiness, Mrs Crumb comes up with plan to teach Mr Noisy how to be quiet. Mr Lazy lives in Sleepyland, which is a very lazylooking and sleepylike place. What happens to Mr Lazy when he's woken by Mr Busy and Mr Bustle? Mr Funny lived in a teapot. He was the funniest person there ever was. Everything he did was funny.
So when the zoo was closed because all the animals had colds, the zoo keeper could count on Mr Funny to cheer them up. Mr Mean lived up to his name. But one day a rather far wizard came to his door and Mr Mean was particularly rude to him.
So the wizard decided it was about time that Mr Mean was taught a lesson. Mr Chatterbox was one of those people who simply couldn't stop talking. He used to talk to anybody and everybody about anything and everything, going on and on and on. Then Mr Chatterbox gets a new (and magical) hat teaches him to not talk so much. Mr Fussy was fussy about everything.
Absolutely everything had to be neat and tidy and in its proper place. One day his long lost cousin, Mr Clumsy, comes to visit and messes up all of Mr Fussy's tidiness. Mr Bounce was very small and like a rubber ball. He just couldn't keep himself on the ground!
He bounced all over the place! But all that bouncing can get quite painful.
Will Mr Bounce ever stop bouncing? Poor Mr Muddle just couldn't get anything right. Everything he did, everything he tried, everything he said was muddled.
So how does George, the old fisherman, help make Mr Muddled not so muddled? Mr Dizzy lives in Cleverland where everything and everybody is clever. Being surrounded by so much cleverness can make one dizzy if one is not so clever. And Mr Dizzy was not so clever. But one day he finds a wishing well and make a wish to be clever.
What will Mr Dizzy once he's clever? Mr Impossible can do the most amazing things. But how will he do at school? Mr Strong is the strongest person in the whole wide world.
This story is about the time the farmer's field was on fire and how Mr Strong helped save the day. Mr Grumpy lives in Crosspatch Cottage and has the most shocking bad temper. When Mr Happy meets Mr Grumpy, Mr Happy is certain that bad-tempered fellows need to change their ways, and he knows just the solution. Mr Clumsy, as you might have guessed, was a rather clumsy fellow.
Follow Mr Clumsy through his very clumsy day of messes and mistakes. Mr Quiet lived in the middle of a wood in the middle of a country called Loudland, which didn't suit him very well because no one could ever hear him. When Mr Happy invites Mr Quiet to visit Happyland, will Mr Quiet want to stay there? Mr Rush was the fastest thing on two legs.
Now, he wants to go on a holiday... Mr Tall was the tallest person in you've ever meet. But he wished his legs weren't quite so very very long. Can Mr Tickle, Mr Nosey, and Mr Greedy help Mr Tall appreciate his very long legs? Whatever happened, he worried about it.
Will he ever stop worrying? Mr Nonsense has no sense at all. This story is about the time it snowed in Nonsenseland, the country where Mr Nonsense lives. What will Mr Silly and Mr Nonsense do in the snow?
Whatever Mr Wrong did was absolutely, totally, completely, utterly wrong. However hard he tried, he just couldn't do anything right.
Until he meets Mr Right. Will Mr Right help Mr Wrong to be not so absolutely, totally, completely, utterly wrong? Mr Skinny was extraordinarily thin. What made it even worse, was that he lived in a place called Fatland.
Mr Skinny feels so different from everything and everybody in Fatland, and all poor Mr Skinny wants is a belly. Mr Mischief is up to no good! Until he meets a wizard in the woods. Will Mr Mischief finally behave?
Mr Clever was quite the cleverest person ever. The Cleverest Person In The World! Then one day Mr Clever went on long walk.
An extremely long walk, all the way out of Cleverland. What will happen to Mr Clever outside of Cleverland?
There has never been anybody quite like Mr Busy. He could do things ten time as fast as ever you or I could.
So when Mr Busy wants to go on picnics with Mr Slow, who does not like to be rushed, Mr Slow is not too pleased and tries to find a way out. Mr Slow, as you might well know, did everything in an extraordinarily slow way. When Mr Slow decided to get a job and can't find one for somebody who is extraordinarily slow, he asked all the Mr Men what he should do.. Mr Brave was invited to tea with Little Miss Trouble. He can't be late.
But can he resist being brave on the way to see Little Miss Trouble? Mr Grumble suited his name well. He always grumbled, groaned and moaned. Until one day he met a wizard who taught him a lesson about grumbling so much.
It's Mr Perfect's birthday and everything from the house to the cake is - well - perfect... Until the guests arrive and things go terribly wrong. How will Mr Perfect react? Mr Cheerful was always in a good mood.
However he did have one secret that made him sad, but nobody knew about it. What will happen when his secret gets out? When Jack Robinson falls ill, who can be counted on to make his day better? Follow Jack and Mr Cool as they go on adventures from flying a jet-plane to climbing Mount Everest.
Mr Rude is extraordinarily rude. He was even rude to poor Little Miss Tiny, which upset Mr Happy.
Will Mr Happy be able to teach Mr Rude some manners? Mr Good was very good, but lived in Badland. He was miserable living in Badland where everyone was mean. One day Mr Good went on a long walk to think about what he could do, when he ran into someone who was not so mean.. Happy is merrily walking along, when he comes across an extraordinary sight: a person who is, but isn't!
Nobody - a person you can see right through, and who can't remember where he is from, who he is, or what he should be doing... Happy decides to try and help his invisible new friend, and rid him of his misery - but is this possible? Whatever will become of Mr. This is a heart-warming tale that might leave you feeling a little bit sad, but hopefully a whole lot happier! We are dedicated to ensuring the highest possible quality service to our customers. You can send us a message by using the "Questions and answers" section towards the bottom of the page.
Men My Complete Collection 48 Books Box Set Mr. Happy" is in sale since Thursday, December 15, 2011. This item is in the category "Books, Comics & Magazines\Children's & Young Adults\Fiction". The seller is "books4peopleuk" and is located in Leicester. This item can be shipped to United Kingdom, United States, Ireland.
Country/Region of Manufacture: United Kingdom
Topic: Boys' Interest
Format: Paperback
Series: Mr. Men and Little Miss
Type: Short Stories
Title: Mr Men and Little Miss
Gender: Boy's/Girl's Interest
Popular Authors/ Series: Mr. Men My Complete Collection
Weight: 3.00KG
Fiction/Non-Fiction: Fiction
Author: Roger Hargreaves
Publication Year: 2018
Language: English
Publisher: Egmont
Genre: Humour
Age Level: Ages 2-3
Special Attributes: Collection/Box Set