THE CORE COLLECTION Touch and Go/We Got Power! /NYHC/GBH Book Set Hardcore Punk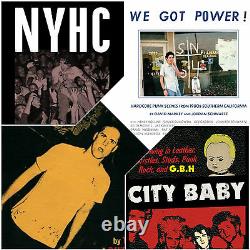 This is a lot of brand new, unread copies of the four most energized and exhaustive books ever to cover the origins of hardcore punk in America and the UK. Between the four invaluable tomes, over 1,560 pages 14 lbs. /7 kg of inflammatory, wild-eyed rebellion from the dawn of DIY deliverance in Los Angeles, New York, the Midwestern territories, and Birmingham, England. BOOK #1: TOUCH AND GO: The Complete Hardcore Punk Zine 7983 , by Tesco Vee and Dave Stimson. Introductory essays by Tesco Vee, Dave Stimson, Steve Miller, Henry Rollins, Keith Morris, Peter Davis, Henry Owings, Byron Coley, Corey Rusk, John Brannon, and Ian MacKaye Dimensions: 8.5 x 11.5 (220mm x 280mm); 3.5 lbs. As a hardcore punk primer you couldn't do better. I was inspired by how fearless and together Touch and Go were.
They were really wild and extremely funny. Twenty-two issues in one loud, fast volume. Touch and Go fanzine was the brainchild of Tesco Vee and Dave Stimson and was launched in Lansing, Michigan, in 1979.
Major fanatics of the new punk happenings in the late 70s, TV and DS set out to chronicle, lambaste, ridicule, and heap praise on all they arbitrarily loved or hated in the music communities in the US and abroad. Magazines like Forced Exposure and Your Flesh , among others, soon fired up Xerox machines themselves, and the rest is history. So is the legendary independent record label launched from this zine, and so are the bands covered inside: Black Flag, Minor Threat, the Misfits, Negative Approach, the Fix, the Avengers, the Necros, Discharge, Iron Cross, Youth Brigade, Faith, Die Kreuzen, Crucifix, Poison Ideaand all the other punks worth their weight in glorious black and white.
NYHC: New York Hardcore 19801990. By Tony Rettman High-quality softcover with 384 densely illustrated pages. Foreword by Freddy Cricien of Madball. Dimensions: 6.75 x 9.5 x 1.5 (170mm x 240mm x 40mm); 3 lbs.
A fittingly bare-bones book, with fifty-two short chapters and no editorializing from the author. But the story it tells is not a simple one: this was, to quote the title of Cro-Mags first album, an'age of quarrel.
Is an essential document, which will be the go-to reference for all fans of extreme styles of music. A new oral history from crucial local imprint Bazillion Points, tells the tale of Agnostic Front, Cro-Mags, Reagan Youth and the myriad other bands that helped put the scene on the map. Known for its glamorous 1970s punk rock scene, New York City matched the grim urban reality of the 1980s with a rawer musical uprising: New York hardcore. As bands of misfits from across the region gravitated to the forgotten frontier of Manhattan's Lower East Side. With a a backdrop of despair, bands like Agnostic Front, Cro-Mags, Murphy's Law, and Youth of Today confronted their reality with relentlessly energetic gigs at CBGB, A7, and the numerous squats in the area. Tony Rettman's ambitious oral history captures ten years of struggle, including the scene's regional rivalries with D. And Boston, the birth of moshing, the clash and coming to terms of hardcore and heavy metal, the straightedge movement, and the unlikely influence of Krishna consciousness. Hardcore Punk Scenes From 1980s Southern California. By David Markey and Jordan Schwartz Deluxe 304pp large-format landscape hardcover Dimensions: 12 x 9 (305mm x 230mm); 4 lbs. Vital to understanding the birth of American punk rockan essential addition to the history of a movement.
Essential readingthe funniest of the local magsMatt Groening. The book is a wonderful document of something that has continuity and lasts, the stuff that matters. Its the finding of a voice of a generation. Featuring essays by David Markey, Jordan Schwartz, Jennifer Schwartz, Henry Rollins, Keith Morris, Chuck Dukowski, Dez Cadena, Louiche Mayorga, Cameron Jamie, Pat Fear, Steve Humann, Tony Adolescent, Jack Brewer, Jula Bell, Mike Watt, Sean Wheeler, Joe Carducci, Daniel Shredder Weizmann, and Janet Housden. Presenting nearly 400 first-generation L.
Including complete color reprints of We Got Power fanzine 19811983 and beyond. BOOK #4: CITY BABY: Surviving in Leather, Bristles, Studs, Punk Rock, and G.
304 heavily-illustrated and ridiculously entertaining pages. Dimensions: 6 x 9 (230mm x 345mm); 2 lb.
Always doing what they felt like and having a laughabsolutely captivating. The full, warts and all story of the band, a gripping read. Full of crazy punk rock antics from around the worldraw and honestSidewalk. To Ross credit, he drills uncomfortably deep into the darkest corners of his psyche. An uneasy but always compelling read.
Teenage punk rock milkman Ross Lomas strapped on a bass and joined G. Leading the charge of U. H lit up British pubs, European squats, and American highways with a wall of sound and mile-high spikes. Living by his own rules, for better or for worse, Ross Lomas riots with violent skinheads, metal hippies, rip-off managers, Neil Sedaka, and the Argentine cavalry, and tries to make sense of adulthood. H family dont escape unscathed, but they never surrender. Please write with any questions.
The item "THE CORE COLLECTION Touch and Go/We Got Power! /NYHC/GBH Book Set Hardcore Punk" is in sale since Tuesday, September 15, 2015.
This item is in the category "Books & Magazines\Books". The seller is "bazillionpoints" and is located in Brooklyn, New York. This item can be shipped worldwide.
Book Title: TOUCH AND GO
Author: Tesco Vee
Language: English