The Darren Shan Demonata Series Collection 10 Books Set Pack (Demon Apocalypse)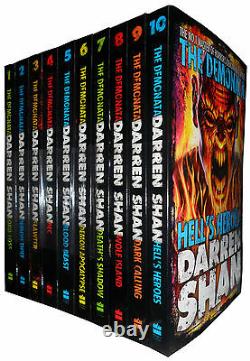 Darren Shan's Demonata Collection 10 Books Set. Lord Loss, Demon Thief, Slawter, Bec, Blood Beast, Demon Apocalypse, Death's Shadow, Wolf Island, Dark Calling, Hell's Heroes.
LORD LOSS will be devoured by avid Shansters and tingle the spines of many new fans. The door feels red hot, as though a fire is burning behind it. I press an ear to the wood -- but there's no crackle.
And a curious dripping sound. My hand's on the door knob. Inside the room, somebody giggles -- low, throaty, sadistic.
There's a ripping sound, followed by snaps and crunches. When Grubbs Grady first encounters Lord Loss and his evil minions, he learns three things: / the world is vicious, / magic is possible, / demons are real. He thinks that he will never again witness such a terrible night of death and darkness. This is a hellish nightmare for only the bravest of readers... Darren Shan's horrifying new series, "The Demonata", continues with Demon Thief - now available in a spine-chilling paperback with grisly glow-in-the-dark cover! A huge, jagged patch of light forms at the foot of my bed. Then a shape presses through. I'm too horrified to scream.
It's a monster from my very worst nightmare - pale red skin; dark red eyes; no nose; and sharp, grey teeth. As it leans further forward I see a hole in the left side of its chest, and inside - dozens of tiny, hissing snakes. The monster frowns and stretches a hand towards me! When Kernel Fleck's brother is stolen by demons, he must enter their universe in search of him. It is a place of magic, chaos and incredible danger.
Kernel has three aims: learn to use magic, find his brother, and stay alive. But a heartless demon awaits him, and death has been foretold! More chills and thrills in Darren Shan's latest Demonata title, now in paperback. There are no happy endings. There's always something new around the corner.
You can overcome major obstacles, face great danger, look evil in the eye and live to tell the tale -- but that's not the end. As long as you're breathing, your story's still going! Nightmares haunt the dreams of Dervish Grady since his return from the Demonata universe, but Grubbs takes care of his uncle as they both try to continue a normal, demon-free existence. When a legendary cult director calls in Dervish as consultant for a new horror movie, it seems a perfect excuse for a break from routine and a chance for some fun. But being on the set of a town called Slawter stirs up more than memories for Grubbs and his friend Bill-E.
As demonic Fomorii ravage their land, Bec and a band of warrior companions leave their devastated rath to answer a plea for help. An orphaned priestess-in-training, Bec hopes the journey will help her solve the mysteries of her birth. But fighting demons has a steep price..
Locked inside Dervish's study. I still feel sick and dizzy, but maybe that's fear.
I force myself to breathe normally, evenly. When I'm in control, I study my reflection, looking for telltale signs. Grubbs Grady has so far escaped the family curse, but when he begins to experience alarming symptoms at the onset of the full moon, he is scared that the jaws of fate are opening and about to swallow him whole.
He has cheated death, defeated demons, moved on with his life. But Grubbs is torn between the world of magic and his wolfen genes. Can he fight the beast inside or will he fall victim to his tainted blood? Hell is revealed in the sixth nail-biting, hair-rending, creepy cool episode of the Demonata! It's all around me, fierce, intense, out of control.
I feel the hair on my arms singe and know I have only seconds before I burst into flames. There's a horrible shrieking sound, piercing and destructive.
My eardrums and eyeballs should burst. / One boy's life ripped to shreds before his eyes! / One wrathful demon master hellbent on revenge! / An army of grisly Demonata on the rampage! It's the end of the world as we know it.
Fresh hell from the Demonata - you can't cheat death... I'm a human sponge -- I soak up memories. I feel like a thief, stealing secrets with an innocent touch.
I don't like this gift. It's intrusive and sneaky. I think it's harmless, but I can't be sure. If knowledge is power, why do I feel so alone!
The apocalypse came and the world burned. But it wasn't the end, and out of the destruction, new life has emerged. Bec is back to face the Demonata. After centuries of imprisonment, she's more powerful than ever, but the demons no longer stand alone. Something else has crawled out of the darkness with her.
Lord Loss is no longer humanity's greatest threat! Grubbs Grady treads new ground in this, the eighth dramatic title in the Demonata. But beware - Trespassers will be eaten!
We spot the werewolves as we skim the treetops. Mutated, vicious, hairy monstrosities, all fangs, claws and muscles.
The beast within me tries to force its way to the surface, howling silently at its warped brethren. I've never rid myself of the wolf! As the mysterious Shadow builds an army of demons, Grubbs and his team search desperately for answers. But when they follow up a new lead, it takes them to an old, unexpected foe - the Lambs. Werewolves are on the loose.
Events take an unexpected turn in this ninth awesome foray into the worlds of the Demonata! I know it's ridiculous. But I swear I heard a voice calling to me. It sounded like static to begin with, but then it came into focus, a single word repeated over and over. The Disciples are being manipulated by beings older than time.
Only Kernel Fleck knows that something is wrong. But he is in the grip of a creature who cares nothing for the fate of humanity. Voices are calling to him from the darkness and he's powerless to resist. Kernel has already been to hell and back. Now he's about to go further!
The final dramatic conclusion to Darren Shans international phenomenon, The Demonata. Expect the unexpectedBeranabus and Dervish are gone. Bec has formed an unholy alliance with Lord Loss.
Kernel is blind, held on Earth against his will. Grubbs is mad with grief and spinning out of control. We are dedicated to ensuring the highest possible quality service to our customers.
You can send us a message by using the "Questions and answers" section towards the bottom of the page. The item "The Darren Shan Demonata Series Collection 10 Books Set Pack (Demon Apocalypse)" is in sale since Tuesday, July 17, 2012. This item is in the category "Books, Comics & Magazines\Children's & Young Adults\Fiction". The seller is "books4peopleuk" and is located in Leicester. This item can be shipped to United Kingdom, Ireland.
Popular Authors/ Series: Darren Shan Demonata Series
Gender: Boy's/Girl's Interest
Weight: 2.00
Subject: Scary Stories
Country/Region of Manufacture: United Kingdom
Topic: Spooky Stories
Series: Demonata
Format: Paperback
Title: Darren Shan
Type: Novel
Author: Darren Shan
Publication Year: 2019
Language: English
Publisher: Harper Collins
Genre: Horror
Age Level: Young Adults