The Night World Collection (Boxed Set) Night World Daughters o. 9781481498869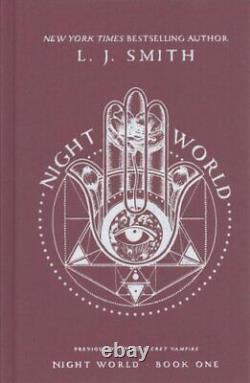 The Night World Collection (Boxed Set) Night World; Daughters of Darkness; Spellbinder; Dark Angel; by L J Smith 9781481498869 (Hardback, 2017). All nine books in L. Smith's beloved Night World series are now available in a special collector's boxed set! Vampires, werewolves, witches, shapeshifters'they live among us without our knowledge. The Night World is their secret society, a society with very strict rules.
And falling in love breaks them all. In Night World, Poppy has been diagnosed with terminal cancer. James, a vampire, can make Poppy immortal, but first they must risk everything to go against the laws of Night World. Three fugitive vampire sisters leave their isolated homes to live among humans in Daughters of Darkness. When their brother, Ash, is sent to bring the girls back, he falls in love with their beautiful friend.
It's a battle between black magic and white magic in Spellbinder as two witch cousins fight over their high school crush. In Dark Angel, Gillian is saved from drowning by her guardian angel who promises to fulfill her heart's every desire. But when Angel starts making strange and sinister requests, Gillian must question who he truly is and where he came from. Armed with a wooden stake, martial arts, and the will to resist a vampire's mind control, Rashel stuggles to avenge her mother's death in The Chosen.
Then she meets Quinn, her soulmate, who is part of the world she has vowed to destroy. Hannah receives notes warning her of incredible danger in Soulmate.
But if death is her destiny, is the Lord of the Night World's love strong enough to save her? A vampire hunter'who is half vampire herself'stalks other vampires to protect humans in Huntress.
In Black Dawn, Maggie stumbles upon an old Night World kingdom where the ruling vampire prince is both an enemy and an ally. And in Witchlight, shapeshifter Keller must protect a rebellious teenager who may really be the legendary Witch Child, all while trying not to fall in love with the man destined to be the Witch Child's soulmate. Wordery is one of the UK's largest online booksellers.
With millions of satisfied customers who enjoy low prices on a huge range of books, we offer a reliable and trusted service and consistently receive excellent feedback. We offer a huge range of over 8 million books; bestsellers, children's books, cheap paperbacks, baby books, special edition hardbacks, and textbooks. All our books are dispatched from the UK.
Why should you use Wordery Specialist. We find rare books for you. These take a little longer to source. Please check the expected dispatch details above. 100% genuine, brand new products.
Wordery don't sell used products or counterfeits - ever! Over 7 million titles and growing, all at extremely competitive prices. About Wordery Wordery is one of the UK's largest online booksellers.