The Pearl Manuscript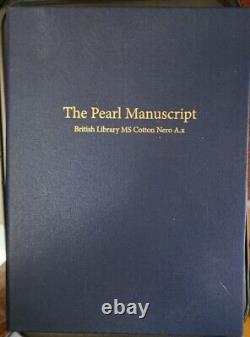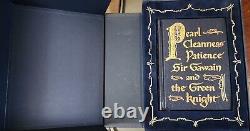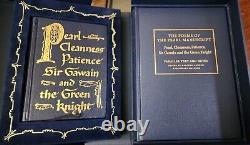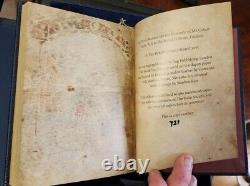 The Pearl Manuscript is a facsimile of MS Cotton Nero A. X in the British Library, London.
Volume is printed on Gardapatt paper and bound in Indian goatskin leather by Gorenjski tisk storitve, Kranj, Slovenia. Blocked in gold with a design by Stephen Raw. Duodecimo, measuring out to 7" x 5.25".
The parallel text edited by Malcolm Andrew and Ronald Waldron, is bound in navy buckram with gilt titles to front board and spine. Octavo, measuring out to 9.5" x 6.75".
Facsimile rests inside a navy velvet case with gilt adornments atop the parallel text. Both volumes are housed inside a presentation box bound in matching navy buckram.
Box measures out to 10.75" x 8" x 3.5. Box set is pristine - no rubbing or damage to either volume or box. Interior of both volumes are immaculate - crisp pages are unmarred by markings, stains, creases or tears. A beautifully crafted edition by The Folio Society, c.
Opy 721 out of 980 numbered copies.