Tom Gates by Liz Pichon Books 1-18 Collection Set Age 7-14 Paperback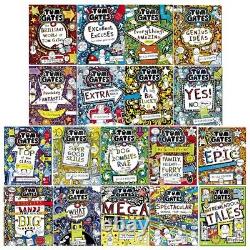 Children's Ages (0 - 5). Children's Ages (5 - 7). Children's Ages (7 - 9). Children's Ages (9 - 14). We want to encourage a love of reading in all children.
That's why we have been offering exceptional books at affordable prices since 2004. We look forward to being a part of your next story. Tom Gates by Liz Pichon: Books 1-18 Collection Set - Age 7-14 - Paperback.
Tom Gates by Liz Pichon: Books 1-18 Collection Set Author : Liz Pichon Publisher : Scholastic Format : Paperback Reading Age : 7-14. Tom Gates: The Brilliant World of Tom Gates. Tom Gates: Everything's Amazing. Tom Gates: Is Absolutely Fantastic. Tom Gates: Extra Special Treats (Not). Tom Gates: A Tiny Bit Lucky. Tom Gates: Tom Gates: Yes! Tom Gates: Top of the Class (Nearly). Tom Gates: Super Good Skills Almost...
Tom Gates: DogZombies Rule For now... Tom Gates: Family, Friends and Furry Creatures. Tom Gates: Tom Gates: Epic Adventure (kind of). Tom Gates: Biscuits, Bands and Very Big Plans. Tom Gates: Mega Make and Do and Stories Too!
Tom Gates: Spectacular School Trip Really... Tom Gates: Ten Tremendous Tales. The Brilliant World of Tom Gates. When my teacher, Mr Fullerman, doesn't have his BEADY EYES on me, I like to draw pictures and write stories about stuff - like when we had the worst holiday ever (camping sucks), and when my parents came to school for parents' evening (groan), and about how Marcus Meldrew is the most annoying boy in the world and how I don't want to sit next to him in class. All I want to do is get tickets to see the best band ever, DUDE3, when they come to town.
It's not easy when I'm up against Delia, my weirdo big sister, and all my plans seem to get me into MAJOR TROUBLE. No school for two whole weeks leaves Tom with heaps of time for the important things in life.
He can forget all about lessons and the irritating Marcus Meldrew, and save his energy for good stuff! Stuff like: inventing new ways to annoy his sister Delia. Band practice for the Dogzombies - rock stars in the making!
Watching TV and eating caramel wafers; eating caramel wafers and watching TV. But clouds are gathering on the horizon in the form of Tom's weirdo big sister Delia. And when trouble collides with his brilliant plans, he'll need all his excellent excuses... Crammed with scribbles, doodles, stories and sniggers, this hysterical journal brings you more manic mayhem from the crazy world of Tom Gates. Back to school, but it's not all bad.
Sports Day, the school fair and Tom's birthday are all coming up. And even better, his awful big sister Delia won't be at any of those events! On the downside, Granny Mavis is threatening to make his birthday cake - uh oh!
But on the other hand, Mr. Keen has asked Dogzombies to perform in front of the whole school! Maybe they can even play at the school disco too.
How can the term turn out any less than seriously amazing? Follow Tom on his third set of cheeky and doodletastic adventures in this Roald Dahl Funny Prize-winning series!
Seeing Delia without her sunglasses on is a BIG shock for Tom, but that's nothing compared with the surprise that Dad has in store with his new-found fitness regime! He says he's going to compete at the school Sports Day. Can you even imagine the horrendous shame that will bring? Meanwhile Tom, Derek and Norman are also busy with a training regime of their own - practising with Dogzombies to make sure they're ready for the school talent show.
The highs and lows of Tom's life are funnier and more extreme than ever in this fourth wicked diary from the Roald Dahl Funny Prize winning series! This takes the form of Tom's battered homework diary - crammed with his doodles and stories. Mr Fullerman announces that class 5F are going on an'Activity Break'! As long as I don't get stuck in a group with anyone who snores or worse still with.
Delia is already threatening to paint my room funny colours while I'm away. I just hope the only surprise I have when I get home is the new pet that I hear Mum and Dad talking about.
Because I've always wanted a pet! Tom's hoping to be made a Star Pupil at school, but that means he needs to put more effort into his homework than his doodles. Meanwhile, his grandparents (the Fossils) are about to celebrate their fiftieth wedding anniversary, and Uncle Kevin wants to plan something special. From the winner of the Roald Dahl Funny Prize, the Red House Children's Book Award, the Waterstones Children's Book Prize and the Blue Peter Best Story Book Award 2013, comes the seventh amazing instalment of Tom Gates' adventures. The laugh-out-loud Tom Gates is back in another brilliant instalment of Liz Pichon's bestselling illustrated series.
Sometimes making up my mind isn't easy to do. Especially when my grumpy sister Delia is LOOMING over me.
From the winner of the Roald Dahl Funny Prize, the Best Book for Younger Readers - Red House Children's Book Award, the Waterstones Children's Book Prize 5 - 12 year-olds and the Blue Peter Best Story Book Award 2013, comes the ninth amazing instalment of this brilliant series. Tom, Delia and the whole Gates family are going on holiday.
How will Tom manage to keep himself busy on the most boring campsite ever? An exciting new story - with doodle your own elements!
Here's my EXCELLENT PLAN to make DogZombies the BEST band in the WHOLE WIDE WORLD! How hard can it be? Right now I'm going to: 1.
Make a SPECTACULAR music video. Tricky when you're being kept awake by LOUD NOISES. Nothing to do with DOGZOMBIES but always FUN. In the next hilarious illustrated instalment of Tom Gates, Mr Fullerman has a class assignment: a family tree!
Tom's ready to learn all about the Gates family, his friends and a furry creature or two! But just what is that squeaking sound coming from Tom's shoes? Tom Gates : Tom Gates: Epic Adventure (kind of). The brand new hilarious and fully-illustrated instalment of the bestselling Tom Gates series! Having two sets of grandparents is turning out to be very good for me.
The Wrinklies are keen on giving presents AND they're planning a family outing which is going to be EPIC! Even Delia wants to come. I can always ignore her. The bestselling fully-illustrated Tom Gates series is back with a new book! This book is VERY important because it contains BISCUITS, BANDS and all my (doodled) plans to make DogZombies the BEST band in the world.
The next brilliant instalment of the fully-illustrated Tom Gates series will have readers cracking up! MONSTERS - MYSTERY - A MUSIC FESTIVAL - MISSING STUFF. Oh, and also a very strict supply teacher who is every kid's nightmare. But you're not scared of monsters, are you? So don't let it put you off!
When Mum and Dad forget it's half term, what's Tom going to do to keep busy over the break? All his friends are away or busy and he doesn't want Delia left in charge! So he's finding lots of EXCELLENT things to do. It's a weeks' worth of doodling, games, stories and woolly monster making because everyone needs one of those, don't they?
Tom's doing everything possible to stay out of trouble but somehow he's got THREE sad faces : : : on the school achievement chart! And getting another sad face means Mr Fullerman won't let him go on the SCHOOL TRIP! Moany Marcus Meldrew is making things worse and now Tom's annoyed his grumpy sister Delia.
Can his best friend Derek help? Will Rooster the dog stop eating his homework? This book is full of excellent stories to make you laugh! Oakfield Town is having a PARADE and everyone wants to take part.
ESPECIALLY Marcus (no surprise there). Mum and Dad have left Delia in charge, which is NEVER a good idea. Goat and I find out that trying to have a sneaky scoop of caramel ice cream doesn't end well. But at least my doodling is as SPECTACULAR as ever. Baby Sitters Club Graphic Novels 7 Books By Ann M.
Martin - Ages 9-14 -Paperback. Tom Gates Series 2 & 3: 10 Books Collection Set by Liz Pichon - Age 7-14 - PB.
Roshani Chokshi Collection 4 Books Set - Ages 8-12 - Paperback. Barry Loser 11 Books Children Collection Pack Paperback Gift Set By Jim Smith. This listing is currently undergoing maintenance, we apologise for any inconvenience caused. This item is in the category "Books, Comics & Magazines\Books". The seller is "books2door" and is located in this country: GB.
This item can be shipped worldwide.
Publication Year: Unknown
Format: Paperback
Language: English
Book Title: Tom Gates
Book Series: Tom Gates
Author: Liz Pichon
Original Language: English
Publisher: Scholastic
Topic: Books
Country/Region of Manufacture: Unknown
ISBN: 9789124101329