Winnie The Pooh A A Milne Vintage Book Collection Rare Collectibles Lovely Group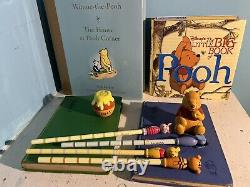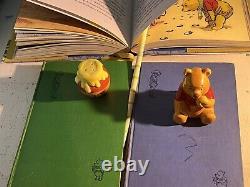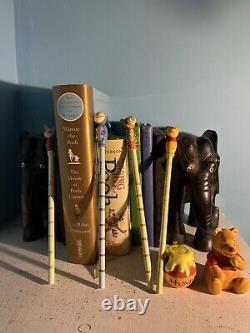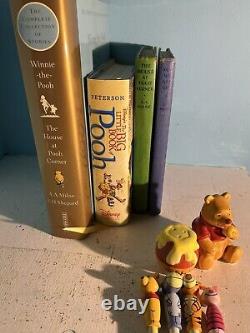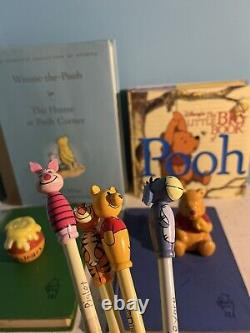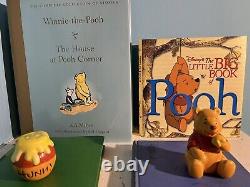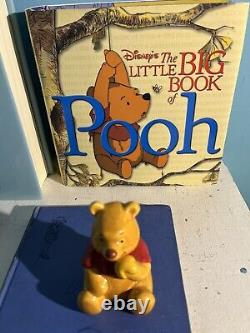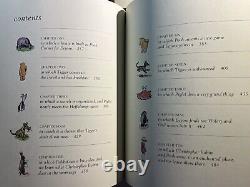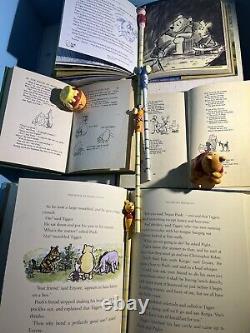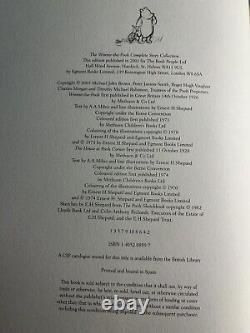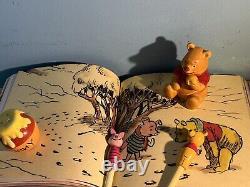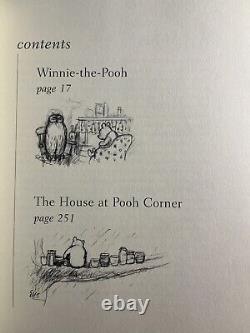 WINNIE THE POOH Collection Rare Collectibles First Editions A A MILNE Rare. Winnie-the-Pooh, also called Pooh Bear and Pooh, is a fictional anthropomorphic teddy bear created by English author A. Milne and English illustrator E.
Two First Mint Editions and two classic Methuen editions. Limited edition salt and pepper shakers and pencil set. Lovely collection perfect present or collectible investment. Pooh in an illustration by E. When We Were Very Young (1924; as Edward Bear). The first collection of stories about the character was the book Winnie-the-Pooh (1926), and this was followed by The House at Pooh Corner (1928).
Milne also included a poem about the bear in the children's verse book When We Were Very Young (1924) and many more in Now We Are Six (1927). All four volumes were illustrated by E. In 1961, Walt Disney Productions licensed certain film and other rights of Milne's Winnie-the-Pooh stories from the estate of A. Milne and the licensing agent Stephen Slesinger, Inc.
And adapted the Pooh stories, using the unhyphenated name "Winnie the Pooh", into a series of features that would eventually become one of its most successful franchises. In popular film adaptations, Pooh has been voiced by actors Sterling Holloway, Hal Smith, and Jim Cummings in English, and Yevgeny Leonov in Russian. Milne named the character Winnie-the-Pooh after a teddy bear owned by his son, Christopher Robin Milne, on whom the character Christopher Robin was based. Shepard in turn based his illustrations of Pooh on his own son's teddy bear named Growler, instead of Christopher Robin's bear.
[2] The rest of Christopher Milne's toys - Piglet, Eeyore, Kanga, Roo, and Tigger - were incorporated into Milne's stories. [3][4] Two more characters, Owl and Rabbit, were created by Milne's imagination, while Gopher was added to the Disney version. Christopher Robin's toy bear is on display at the Main Branch of the New York Public Library in New York City. Harry Colebourn and Winnie, 1914.
Christopher Robin Milne had named his toy bear after Winnie, a Canadian black bear he often saw at London Zoo, and Pooh, a swan they had encountered while on holiday. His father had bought him the toy bear in 1921 from Harrods department store. [7] He named the bear Winnie after his adopted hometown in Winnipeg, Manitoba.
Winnie was surreptitiously brought to England with her owner, and gained unofficial recognition as The Fort Garry Horse regimental mascot. Colebourn left Winnie at the London Zoo while he and his unit were in France; after the war she was officially donated to the zoo, as she had become a much-loved attraction there.
[8] Pooh the swan appears as a character in its own right in When We Were Very Young. Sculpture at London Zoo where A. Milne took his son Christopher Robin to see the amiable bear that inspired Milne to write the story. In the first chapter of Winnie-the-Pooh, Milne offers this explanation of why Winnie-the-Pooh is often called simply "Pooh". But his arms were so stiff...
They stayed up straight in the air for more than a week, and whenever a fly came and settled on his nose he had to blow it off. Shepard memorial plaque at Ashdown Forest, East Sussex, south east England. It overlooks Five Hundred Acre Wood, the setting for Winnie-the-Pooh.
The Winnie-the-Pooh stories are set in Ashdown Forest, East Sussex, England. The forest is an area of tranquil open heathland on the highest sandy ridges of the High Weald Area of Outstanding Natural Beauty situated 30 miles (50 km) south-east of London. In 1925 Milne, a Londoner, bought a country home a mile to the north of the forest at Cotchford Farm, near Hartfield.
According to Christopher Robin Milne, while his father continued to live in London... The four of us - he, his wife, his son and his son's nanny - would pile into a large blue, chauffeur-driven Fiat and travel down every Saturday morning and back again every Monday afternoon.
And we would spend a whole glorious month there in the spring and two months in the summer. "[11] From the front lawn the family had a view across a meadow to a line of alders that fringed the River Medway, beyond which the ground rose through more trees until finally "above them, in the faraway distance, crowning the view, was a bare hilltop. In the centre of this hilltop was a clump of pines. " Most of his father's visits to the forest at that time were, he noted, family expeditions on foot "to make yet another attempt to count the pine trees on Gill's Lap or to search for the marsh gentian.
Christopher added that, inspired by Ashdown Forest, his father had made it "the setting for two of his books, finishing the second little over three years after his arrival". Many locations in the stories can be associated with real places in and around the forest. As Christopher Milne wrote in his autobiography: Pooh's forest and Ashdown Forest are identical.
" For example, the fictional "Hundred Acre Wood was in reality Five Hundred Acre Wood; Galleon's Leap was inspired by the prominent hilltop of Gill's Lap, while a clump of trees just north of Gill's Lap became Christopher Robin's The Enchanted Place, because no-one had ever been able to count whether there were 63 or 64 trees in the circle. The landscapes depicted in E.
Shepard's illustrations for the Winnie-the-Pooh books were directly inspired by the distinctive landscape of Ashdown Forest, with its high, open heathlands of heather, gorse, bracken and silver birch, punctuated by hilltop clumps of pine trees. Many of Shepard's illustrations can be matched to actual views, allowing for a degree of artistic licence. Shepard's sketches of pine trees and other forest scenes are held at the Victoria and Albert Museum in London. The game of Poohsticks was originally played by Christopher Milne on the wooden footbridge, [15] across the Millbrook, [16] Posingford Wood, close to Cotchford Farm.
It is now a tourist attraction, and it has become traditional to play the game there using sticks gathered in the nearby woodland. [15][17] When the footbridge had to be replaced in 1999, the architect used as a main source drawings by Shepard in the books, which differ a little from the original structure. This item is in the category "Books, Comics & Magazines\Books".
The seller is "mattheplumme_61" and is located in this country: GB. This item can be shipped worldwide.
Character: Winnie The Pooh
Book Title: Winnie The Pooh
Book Series: Winnie the Pooh
Narrative Type: Fiction
Publisher: Methuen
Original Language: English
Edition: First Edition
Type: Short Stories
Format: Hardcover
Language: English
Author: A. Milne
Features: Gift Set
Genre: Children & Young Adults
Topic: Collectibles
Country/Region of Manufacture: England